Leap Card – Integrated Ticketing
The National Transport Authority is currently providing an Integrating Ticketing scheme called Leap Card which was launched late in 2011.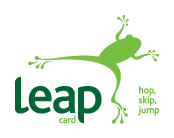 A Leap Card is a reusable plastic smart card that can be used instead of paper tickets to pay-as-you-go for transport in Dublin. Leap Card can currently be used on Dublin Bus, Luas, DART and Commuter Rail services and will be extended to Bus Éireann services in the Dublin area and more private bus services soon.
The advantages of Leap Card are:
You pay less with a Leap card than when you pay for single fares with cash, so you'll save yourself money.
You can jump on Dublin Bus, Luas, DART and commuter rail services around Dublin when it suits you, without having to plan your journey or buy a specific ticket in advance.
No more rooting around your pockets for the right change. Just pay the appropriate fare with the Travel Credit on your Leap Card!
No more queuing at ticket machines for single tickets on Luas, DART and commuter rail. With the Leap Card you just Top-Up with Travel Credit and go whenever you like.
You can register your Leap Card online, so if it's lost or stolen, no one else can use it. Once you register, you can also see your card history and buy Travel Credit online.
Recent Leap Card Developments
Leap Card Luas Capping
If you make lots of Luas trips with your Leap Card in 1 day or 1 week (Mon-Sun), we'll automatically cap the price so you don't spend any more than you need to. Similar functionality is being developed for Dublin Bus, DART and Commuter Rail services and will be enabled shortly.
More Top Up options
Ticket Machines in all DART and Commuter Rail stations in the Short Hop Zone have recently been upgraded to sell and Top Up Leap Cards.
Student Travelcard
Students can now pay-as-you-go with a Leap enabled Student Travelcard in addition to availing of a great range of discounts on longer period tickets.
Trial on Matthews Coaches
Leap Card functionality is currently being piloted on Matthews Grange Rath – Bettystown – Laytown – Dublin route.
Future Developments
More Bus Operators
Soon you'll be able to use your Leap Card with other operators such as Bus Éireann and more private bus services.
More Functionality
Leap Card is rolling out a series of new features. One of these will be Auto Top-Up, which makes sure you never run out of Travel Credit by automatically topping up your Leap Card from your bank account. Once it's introduced, you'll be able to activate it online at leapcard.ie.
More Options
A wide range of ticket options, such as annual and monthly tickets, will also be made available.
For more information on the service and to buy a card online visit www.leapcard.ie