HOME
Lucky for some! Dublin cyclists come 13th in the European Cycling Challenge
16/06/16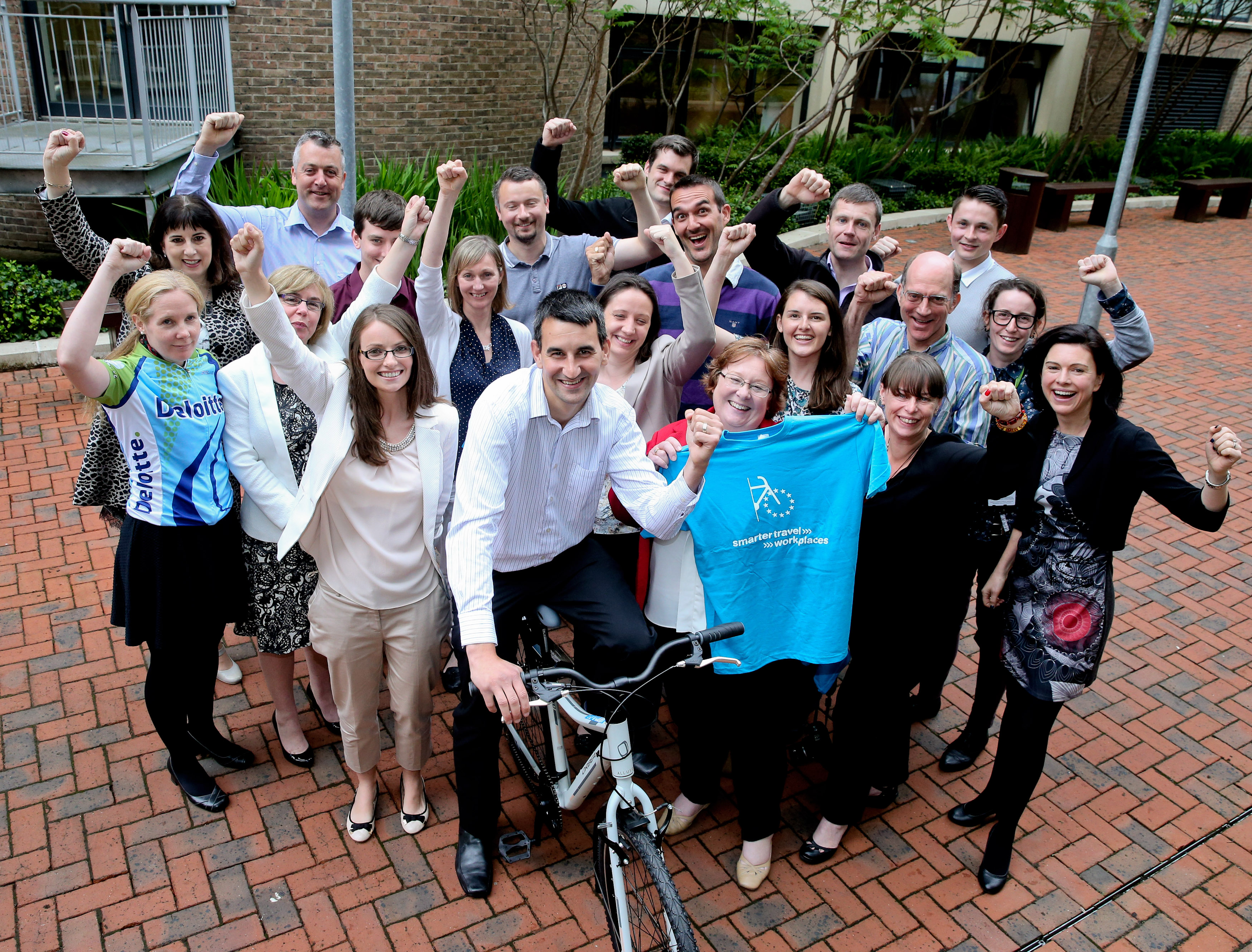 Over 1,000 Dubliners cycled over 108,000kms to 13th place in the European Cycling Challenge, organised by the National Transport Authority's Smarter Travel Workplaces programme over the month of May. Altogether over 45,870 cyclists from 52 cities cycled almost 4 million kilometres; doubling the distance cycled in the 2015 event, in a European celebration of cycling.
There was a range of leaderboards: one for the 52 participating cities; one for each city's individual cyclists; and one for Dublin's workplaces. Towards the end there was some serious competition in evidence on all them. St Vincent's University Hospital triumphed on the Irish workplace leaderboard clocking up an impressive total of 8,004 KMs cycled. Roughan & O'Donovan were not far behind, clocking up 6,771kms, which is all the more notable considering they were one of the smaller workplaces competing.
While St Vincent's University Hospital and Roughan & O'Donovan were the top Smarter Travel Workplace Leaderboard, winning cyclists were from a wide range of the other participating workplaces that included SSE Airtricity, Oracle, Clifton Scannell Emerson Associates, Beaumont Hospital, Royal College of Surgeons, Deloitte, Dun Laoghaire Institute of Art, Design and Technology, Aecom, South Dublin County Council, Allianz Worldwide Care.
Edel Byrne, Health Promotion Officer in St. Vincent's University Hospital commented, "St. Vincent's University Hospital is delighted to be announced as this year's winning work place for the European Cycling Challenge 2016. The hospital is committed to the promotion of active travel and cycling as a means of transport to work and in helping to maintain a healthy lifestyle. The Smarter Travel Cycle Challenge is an event the hospital staff look forward to on an annual basis. The hospital is very proud of its staff members' achievement in winning this award."
Anne Graham, Chief Executive of the National Transport Authority said: "This is the 7th year that the National Transport Authority has run a Cycle Challenge as part of the Smarter Travel Workplaces programme. Though this was different to the usual format, the enthusiastic participation remained, and shows that Dublin is continuing to grow as a cycling city. Congratulations to all who participated and to the workplace coordinators within each workplace."
ENDS
For more information: Sinead Flavin, Smarter Travel Workplaces, National Transport Authority 01 879 8300
Editor's Notes:
The National Transport Authority's Smarter Travel Workplaces Programme is a Department of Transport, Tourism & Sport-funded programme for employers implementing a Workplace Travel Plan. Workplace Travel Plans have been shown internationally to reduce single occupancy car use on the commute by between 10% and 24%. Workplace Travel Plans also impact on costs associated with parking, business travel, fleet, CO2 emissions, absenteeism, and access issues. Further information on the programme and Partners can be found at www.smartertravelworkplaces.ie.
Further information on the Cycle Challenge 2016 can be found at www.cyclechallenge.ie or www.cyclingchallenge.eu