Submission Deadline and Committee and Board Meeting Schedule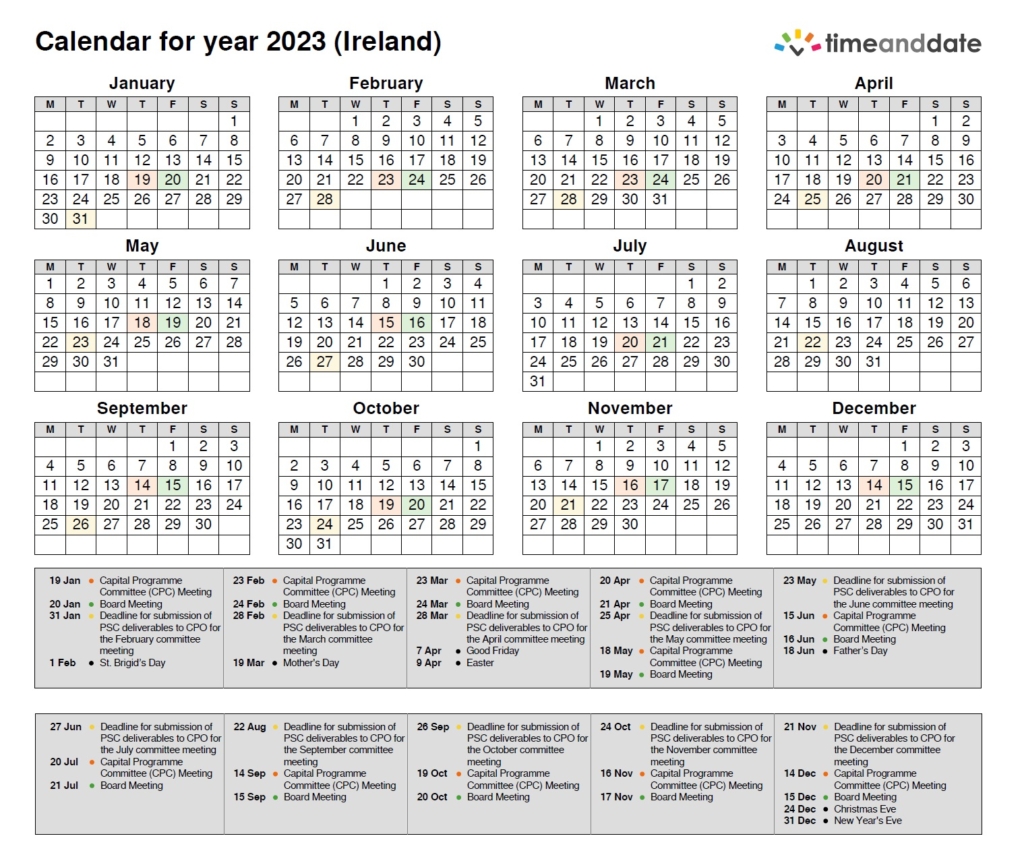 Submission Deadline and Committee and Board Meeting Schedule
| | | |
| --- | --- | --- |
| Deadline for submission of PSC deliverables* to CPO for the committee meeting in next month | Capital Programme Committee (CPC) meeting | Board Meeting |
| 27th December 2022 | 19th January 2023 | 20th January 2023 |
| 31st January 2023 | 23rd February 2023 | 24th February 2023 |
| 28th February 2023 | 23rd March 2023 | 24th March 2023 |
| 28th March 2023 | 20th April 2023 | 21st April 2023 |
| 25th April 2023 | 18th May 2023 | 19th May 2023 |
| 23rd May 2023 | 15th June 2023 | 16th June 2023 |
| 27th June 2023 | 20th July 2023 | 21st July 2023 |
| 22nd August 2023 | 14th September 2023 | 15th September 2023 |
| 26th September 2023 | 19th October 2023 | 20th October 2023 |
| 24th October 2023 | 16th November 2023 | 17th November 2023 |
| 21st November 2023 | 14th December 2023 | 15th December 2023 |
*The material to be submitted to the CPO for review is as follows:
Final version of the relevant PSC deliverable seeking Decision Gate Approval

Strategic Assessment Report [SAR];
Preliminary Business Case [PBC];
Project Brief and Procurement Strategy [PBPS]; or
Final Business Case [FBC].

Please bear in mind that the review will be conducted only on final versions, and not on Drafts. All legible intended appendices should also be submitted accompanying the full report.
An executive summary report. If the full document is greater than 10 pages, then the executive summary report is required. As a general guideline, the executive summary report should be no more than 10% in length of the full document.