Leap Card – Integrated Ticketing
The National Transport Authority is currently providing an Integrating Ticketing scheme called Leap Card which was launched in late 2011.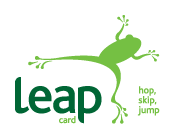 A Leap Card is a reusable plastic smart card that can be used instead of paper tickets to pay-as-you-go for transport in Dublin and is also rolling out to some Bus Éireann services in Cork. Leap Card can currently be used on Dublin Bus, Luas, DART and Commuter Rail services. It can also save you money on selected Bus Éireann, Wexford Bus, Swords Express, and Matthews Coaches services.
The advantages of Leap Card are:
You pay less with a Leap card than when you pay for single fares with cash, so you'll save yourself money.
Current savings are; up to 19% on bus, up to 23% on trains and up to 20% on Luas.
No more rooting around your pockets for the right change. Just pay the appropriate fare with the Travel Credit on your Leap Card!
No more queuing at ticket machines for single tickets on Luas, DART and commuter rail as well as some Matthews coaches, Swords Express and Wexford Bus services.
With the Leap Card you just Top-Up with Travel Credit and go whenever you like.
You can register your Leap Card online, so if it's lost or stolen, no one else can use it. Once you register, you can also see your card history and buy Travel Credit online.
Recent Leap Card Developments
Automatic Top-Up Functionality
If you register your Leap Card you can select the auto top-up function this offers the user the facility to automatically reload their Card with value for a pre-determined amount from their bank account when the value on their Leap Card falls below a certain threshold. Registered Leap Card users can opt-in by signing into their online account at www.leapcard.ie.
Leap Card Capping
If you make lots of trips on Dublin Bus, Luas, DART or Commuter Rail with your Leap Card in 1 day or 1 week (Mon-Sun), we'll automatically cap the price so you don't spend any more than you need to.
The maximum daily and weekly public transport fares will apply for Leap Card users as follows:
Adult (€10 per day / €40 per week), student (€7.50 / €30), child (€3.50 / €14)
Rambler Tickets
Dublin Bus rambler tickets are now available on your Leap Card.
Find out more about Dublin Bus Rambler tickets on Leap Card here.
Bus Éireann Tickets
Bus Éireann is now accepting adult Leap Cards for travel in the Greater Dublin Area.  Find out more about Bus Éireann tickets on Leap Card here.
TaxSaver Tickets
We have commenced rolling out selected TaxSaver tickets on Leap Card. The application process for these tickets remains through normal TaxSaver ordering channels.
For information on using a TaxSaver Leap Card click here.
Future Developments
More Functionality
Leap Card is rolling out a series of new features.
Leap Card will continue to add more functionality on a phased basis, including the introduction of more TaxSaver tickets and more transport operators in the GDA.
For more information on the service and to buy a card online visit www.leapcard.ie.