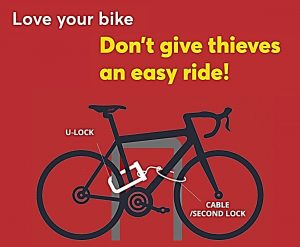 Bicycle theft is one of the main reasons that people stop cycling. With bike ownership on the rise, so too unfortunately is bike theft. Summer is peak time for bike theft, twice as many bikes are stolen in July, August, September and October as in the winter months. (*Garda National Bike Week 2015)
Locking your bike with a good strong quality lock and in the correct way can deter would-be thieves.
It is recommended you use a 'Sold Secure' Gold/Silver Standard U-Lock or similar. You can find out more about 'Sold Secure' locks on the Sold Secure website.
HOW TO LOCK YOUR BIKE AND KEEP IT SECURE
A good lock is all well and good but it needs to be used correctly to be effective.
Make sure to lock your bike to an immovable object and away from the ground. Locks near the ground can easily be hammered off and removed.
Lock the rear wheel and frame to the bike stand with the U lock. Use a cable or second lock to secure the front wheel to the stand. If using a cable lock it into the U lock.
Tips
Lock your bike at home. Bikes get stolen from gardens and sheds.
Record your bike's serial number and take a photo of you with your bike.
Don't buy a bike you think might be stolen – ask for a receipt.
Always report a stolen bike – give the serial number and photo to the Gardaí.
You can report theft up to the value of €500 at www.gardai.ie . Anything exceeding this, report to your local Garda station.
WHERE DO I FIND MY BIKE'S SERIAL NUMBER?
The majority of serial numbers are located under the bottom bracket where the two pedal cranks meet. Turn your bike upside down and record the number.
If there is no serial number near the cranks, you should check other common places including the front headset or rear stays.
WHAT DO I DO IF MY BIKE IS STOLEN?
You can report theft up to the value of €500 online on the Gardaí's website.
If your bike is worth more than €500, you need to report it at your local Garda station. You can find out how to contact them on their website.