The public transport network in Ireland is more comprehensive than you might think, and with Buses, DART, Luas and Rail, it can be faster and more reliable than travelling by car in the rush hour.
If you are a regular commuter to work you can also save significant amounts of cash by purchasing a monthly or annual TaxSaver commuter ticket.
Bus and Rail
To find out what bus or rail routes operate in your area, check out the National Journey Planner, or download the App for Android, iPhone or Windows.
Many train stations have cycle parking, or car parks so you can 'park and ride'. Check out the links below to find out about your local station. You can also bring your bike on some rail services – for more information on bikes on trains, see Irish Rail's website.
Real Time Passenger Information
The introduction of Real Time Passenger Information in Dublin, Cork, Galway, Limerick and Waterford city routes means that commuters can now see when a bus is due to arrive at a stop in real time, so you can plan your journey more accurately. Real Time Apps are available for smartphones or you can plan your journey online.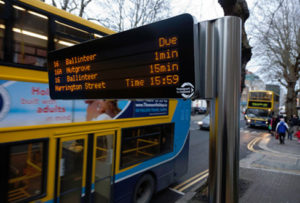 Fares
Generally, the fare you pay on public transport is based on the number of stages you travel. You can save on many operators by using the pre-paid Leap Card, or a TaxSaver commuter ticket.
The TaxSaver Commuter Ticket Scheme encourages commuters to use public transport and to reduce traffic congestion, through the purchase of tax-free monthly or annual tickets.
Employers provide employees (including Company Directors) with annual or monthly tickets for public transport while saving Employers' PRSI for every ticket sold.
Employees participating in the scheme benefit from reduced tax and PRSI payments. Employees receive tickets either as part of their salary package (salary sacrifice), in lieu of an annual cash bonus, or as a benefit-in-kind. Savings arise because tickets are not subject to tax or PRSI.
Employees only have to pay tax and PRSI on the "money" portion of their salary. Employer PRSI is also calculated on the "money" portion of the employee's salary.
Employers can achieve PRSI savings of up to 11.05% and employees can save over 50% of travel costs as a result of tax and PRSI savings by participating in the TaxSaver commuter scheme.
Any licensed transport operator with monthly or annual tickets qualifies for the scheme – ask HR in your workplace for more details, and you can work out potential savings on Taxsaver.ie. Contact private operators directly.