Smarter Travel Campus Awards Winners 2021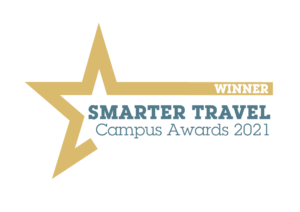 Students from third level colleges around the country were awarded for developing and designing marketing and engineering projects and creating videos, animations, audio, and graphics for the National Transport Authority's Smarter Travel Campus Awards 2021. Thanks once again to our Judging Panel for taking the time to review the entries this year. You can view the Judging Panel here.
Congratulations to the Finalists and Winners of the Smarter Travel Campus Awards 2021.
The Winners for each subcategory are listed below.
Engineering & Innovation – Design
The Winners of the Design subcategory are:
Name of student(s)

Name of Campus

Link to winning entry
Wayne Keating, Lisa Moran
Institute of Technology Carlow
Winning Entry
Orla Charters, Con Murphy, Conor Mc Carry,

Daniel McCann, David Rooney, Lucy Daly,

Rory Gallagher, Shane McDonald

Trinity College Dublin
Winning Entry
Engineering & Innovation – Social Innovation & Entrepreneurship
The Winners of the Social Innovation & Entrepreneurship subcategory are:
Name of student(s)

Name of Campus

Link to winning entry
Timothy McGrath, Orlaith Cashman, Thomas Beese,

Ian O'Keeffe, Caoimhe Crosse, Ella O'Brien, Gavin McSweeney

University College Cork
Winning Entry
Engineering & Innovation – Technology
The Winners of the Technology subcategory are:
Name of student(s)

Name of Campus

Link to winning entry
Oisín Thurlow, Alexandra Lacey, Mobhí de Búrca, Patriks Vitols Jegurs
Dublin City University
Winning Entry
Heather Murphy, Katherine Hardgrave, Jack Rudden-Kelly,

Karen O Flynn, Conor Gallagher, Michael Kwok,

Nicholas Kelly-Haughton, Divyam Gupta

Trinity College Dublin
Winning Entry
Marketing & Events – Communication
The Winners of the Communication subcategory are:
Name of student(s)

Name of Campus

Link to winning entry
Megan Dooley, Viola Turberg, Otto Hooft Graafland,

Lorenzo Loffredo, Amedeo Peyrona, Emil Ullmann

Trinity College Dublin
Winning Entry
Marketing & Events – Digital Marketing
The Winners of the Digital Marketing subcategory are:
| | | |
| --- | --- | --- |
| Name of student(s) | Name of Campus | Link to winning entry |
| Chloe Hallissey, Sorcha Casey | Munster Technological University – Kerry | Winning Entry |
Multimedia – Animation
The Winner of the Animation subcategory is:
| | |
| --- | --- |
| Name of student | Name of Campus |
| Jim Conway | Limerick Institute of Technology |
Link to winning entry:
Multimedia – Audio
The Winner of the Audio subcategory is:
| | | |
| --- | --- | --- |
| Name of student | Name of Campus | Link to winning entry |
| Eimear O'Tuathail | National University of Ireland Galway | Winning Entry |
Multimedia – Graphic Design & Illustration
The Winner of the Graphic Design & Illustration subcategory is:
| | | |
| --- | --- | --- |
| Name of student | Name of Campus | Link to winning entry |
| Maeve Mulqueen | Limerick Institute of Technology | Winning Entry |
Multimedia – Video
The Winner of the Video subcategory is:
| | |
| --- | --- |
| Name of student | Name of Campus |
| Brendan O'Dwyer | Limerick Institute of Technology |
Link to winning entry:
Lecturer Award
The Winners of the Lecturer Award are:
| | | |
| --- | --- | --- |
| Name of Winner | Name of Campus | Category |
| Anne Morrissey | Dublin City University | Engineering & Innovation |
| Sheila O'Mahony | Munster Technological University – Kerry | Marketing & Events |
| Clare Blackwell | Dunboyne College of Further Education | Multimedia |