Tools to Help you Plan how to Get to Campus
You will find travel information for a number of campuses in the documents below. You can also download the free Transport for Ireland apps to help you find out how to get to your campus on foot, by bike and on public transport. These apps are listed below.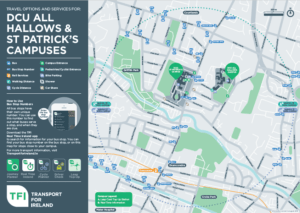 Athlone IT Athlone_IT
Cork IT Cork_IT
DCU campus All Hallows DCU_All_Hallows
DCU campus Glasnevin DCU_Glasnevin
Dundalk IT Dundalk_IT
GMIT GMIT
IADT IADT
IT Carlow IT Carlow
Limerick IT Limerick_IT
Mary Immaculate College Mary_Immaculate_College
Maynooth University Maynooth_University
NUI Galway NUI_Galway
Trinity College Dublin Trinity_College Dublin
TU Dublin campuses Aungier and Kevin street TU_Dublin_Aungier_Kevin_St
TU Dublin campus Blanchardstown TU_Dublin_Blanchardstown
TU Dublin campus Grangegorman TU_Dublin_Grangegorman
UCC UCC
UCD UCD
University of Limerick University_of_Limerick
Waterford IT Waterford_IT
Student Leap Card
Sign up and start saving on your public transport fares! Find out more at www.studentleapcard.ie
Download Free Transport for Ireland Apps
The Apps below will help you travel smarter to and from campus, and beyond! They are available from the android/apple/windows store.
To find the best route for your journey, use the free National Journey Planner App. All you have to do is type in your campus and your destination.
Enter your bus stop or train station into the Real Time Ireland App to find out when the next service is due!
This App provides information on the best cycling routes in Dublin, Cork, Galway, Waterford and Limerick based on individual cycling capabilities. If you are new to cycling or getting out on the bike after a long break, the Cycle Planner will find a route that avoids roads with heavy traffic and difficult turns at busy junctions.
Ireland's Taxi Driver Check App allows you to verify that the taxi you are about to hire has been correctly registered and that the driver has the appropriate licence to operate the vehicle. There is also the facility to email a friend with the trip details.
Regional Bikes
For information on the regional bikes schemes available in Dublin, Cork, Limerick and Galway visit: www.dublinbikes.ie or www.bikeshare.ie