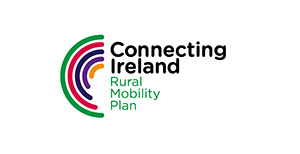 The Connecting Ireland (CI) Rural Mobility Plan is the National Transport Authority's (NTA) plan to improve rural and interurban public transport services across the country over five years 2022 – 2026 inclusive.
Phase 1 (2022) of the CI Plan has:
Generated a positive customer response and passenger numbers have continued to grow throughout the first half of 2023.
More people trying out and committing to using public transport
Grown by 40% in the 38 new and enhanced services launched last year between January
and June of this year.
Phase 2 (2023) of the CI Plan has:
An average 9% growth in patronage in one of the seven new and enhanced services launched so far in per week due to the revised services opening up new employment, healthcare, retail and educational opportunities for rural residents in the areas served.
Boosted local tourism and leisure activity and created new business opportunities.
Improved social cohesion by connecting communities, allowing people to access social events, activities, and support services more easily.
Likely to have contributed to a reduction in carbon emissions, by foregoing the use of the car for their travel.
During the remainder of 2023, the programme will:
Accelerate to introduce more than 60 new or enhanced bus services across Ireland while being mindful of the continuing shortage in staff across the industry following the continuing challenge in recruiting drivers. We remain confident however that the majority of these projects will be in passenger carrying service by the end of the year.
The Connecting Ireland Quarterly Bulletin for Q2 2023, is Issue 3
The Connecting Ireland Quarterly Bulletin for Q3 2023, is Issue 4.
Issue 4 has an up-to-date list for planned implementations before the end of 2023.
File type

PDF

File size

- 2 MB
File type

PDF

File size

- 4 MB