Board
The Dublin Transport Authority Act provides that the Authority consists of a chairperson and 11 ordinary members who perform and carry out the functions of the Authority in accordance with the Act.
The chairperson and ordinary members of the Authority are appointed by the Minister as follows:
The chief executive of the Authority as an ordinary member, for as long as he or she continues to be the chief executive
The holder of the office of Dublin City Manager as an ordinary member, for as long as he or she continues to hold that office
An ordinary member being the holder of the position of a senior management post in the Authority to be specified by the chairperson with the consent of the Minister, for as long as he or she continues to hold that post
The chairperson and 8 ordinary members, from persons who in the opinion of the Minister have wide experience in relation to transport, industrial, commercial, financial, land use planning or environmental matters, the organisation of workers or administration.
The present Authority consists of:
Chairperson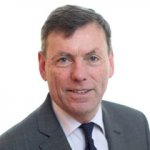 Fred Barry
Fred Barry was appointed Chairman of the NTA in November, 2017. He is a non-executive director of Ervia, where he is Chairman of the Investment and Infrastructure Committee and a member of the Water Industry Operating Framework Committee, and is a non-executive director of the PM Group, where he is a member of the Acquisitions and the Audit, Risk and Finance committee. He was previously a director of the National Development Finance Agency, the National Roads Authority, and various companies within the Jacobs Engineering Group Inc.
He was Chief Executive of the National Roads Authority from 2005 to 2015. Prior to that he worked internationally with Jacobs for 25 years, where his management roles included Group Managing Director for the UK and Ireland. He is a Chartered Engineer, also qualified as a barrister, and is a Fellow of Engineers Ireland and of the Irish Academy of Engineering, where he is also a council member.
Chief Executive Officer
Anne Graham
Anne Graham was appointed Chief Executive Officer of the National Transport Authority in January 2015. Prior to that she served as the Authority's Director of Public Transport Services. Anne is a Chartered Engineer and holds an MBA from DCU. She has worked with the Dublin Local Authorities as a Civil Engineer, as Project Manager on many projects and as an Area Manager in the South West area of Dublin City, bringing local authority services closer to consumers in four local offices.
And other members appointed by the Minister:
Dr Berna Grist   is a Senior Lecturer in the School of Planning and Environmental Policy at University College Dublin. A barrister and chartered town planner, she holds a PhD from the University of Ulster on The Legislative and Regulatory Framework for Development in the Republic of Ireland and has published widely in the fields of planning and environmental law, public policy and governance. Her previous appointments include membership of An Bord Pleanála (2001-2006).
Hugh Creegan is Director of Transport Investment and Taxi Regulation at the Authority and is the Deputy CEO. He previously worked with the National Roads Authority as Section Head with responsibility for Public-Private Partnerships, Commercial Operations and Strategic Planning. He is a civil engineer with wide experience on major projects in the public and private sectors, including the Dublin Port Tunnel, and the M50 widening and associated free-flow toll collection.
Owen P. Keegan was appointed Dublin City Manager in September 2013 having served as County Manager of Dún Laoghaire-Rathdown County Council from February 2006. Before joining the Council he worked for Dublin City Council, where he was Assistant City Manager and the Director of Traffic. Prior to October 1993 he worked as an economist for DKM Economic Consultants/Davy Stockbrokers. He has also worked in the Department of Finance, and the Economic and Social Research Institute and for two periods in the Department of the Environment, Community and Local Government. Mr Keegan is from Dublin. He holds degrees in public administration, economics and civil engineering.
Sinéad Walsh works in the area of disability access across the Greater Dublin and regional areas of Ireland. Sinéad who has a digital media background has worked extensively across the public transport sector over two decades. In both voluntary and contract capacity. Sinéad worked technically with the user groups of Centre of Independent Living Ireland (CIL) on behalf of persons with disabilities raising awareness of a spectrum of evidence based disability access issues in public transport service and infrastructure delivery. In an educational capacity Sinéad used digital media to highlighting human resource health and safety issues across Irish public transport infrastructure and signalling systems. An honours Trinity College Dublin graduate with a Masters in Digital Media Management and Education Sinéad continues to serve temporary capacity in the area of special education on behalf of children and adults with disabilities.
Frank O'Connor is Chief Executive Officer of Airtel ATN Limited, a supplier of data communication solutions for the aviation industry.  He co-founded the company in 1998.  Prior to co-founding Airtel, he worked in several software development companies including US multi-nationals Retix and CACI. He started his career in 1976 at Systems Dynamics, where he spent eight years including two in Germany and the Netherlands. He was a non-executive director at Aer Lingus from 2014 to 2015.
Kevin Kelly has direct experience of disability, having lost his sight in 2001, at the age of fourteen.  He currently holds the position of Head of Policy, Advocacy & Campaigns with the NCBI.  Prior to this, he was the Advocacy and Communications Manager with The Asthma Society of Ireland.  He also served as interim CEO of The Society during his tenure.  Prior to that, Kevin worked as a parliamentary assistant in Leinster House.  He has also worked on local and national media.  He holds a degree in journalism from DCU and a Master's in Public Affairs and Political Communications from DIT.
Pat Mangan served as an Assistant Secretary in the Department of Transport from 1995 to 2010 where his responsibilities included public transport, transport investment and finance. Prior to that, he was head of road policy in the Department of the Environment and chaired the Dublin Transportation Initiative. He is currently a member of the Council of the Chartered Institute of Logistics and Transport in Ireland.
Ann Fitzgerald is an independent Non-Executive Director and is currently Vice Chair of the Irish Takeover Panel and Chair, Beaumont Hospital Board. She chaired the Consumer Strategy Group which led to the Government's decision to set up the National Consumer Agency and served as CEO of the Agency for five years until October 2012.  Prior to that, she was the Secretary General of the Irish Association of Investment Managers, having joined the Association from the Department of Industry & Commerce in 1989. Ann has over 20 years experience as a Non-Executive Director, primarily in commercial and non-commercial bodies in the public sector.