Connecting Ireland is a major public transport initiative developed by the National Transport Authority (NTA) with the aim of increasing connectivity, particularly for people living outside our major cities and towns. The plan aims to improve mobility in rural areas, and it will do this by providing better connections between villages and towns by linking these areas with an enhanced regional network connecting cities and regional centres nationwide.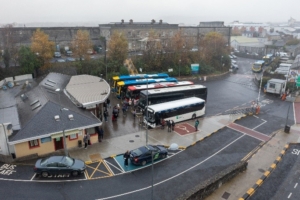 Connecting Ireland seeks to make public transport for rural communities more useful for more people, and it will do this by:
Improving existing services;
Adding new services; and
Enhancing the current Demand Responsive Transport (DRT) network which meets the transport needs of people who live in remote locations.
The NTA has undertaken a comprehensive analysis to better understand where rural bus service improvements are required with a view to introducing new and improved connections between villages and towns; and providing better access to public transport in rural areas.
These improvements will create a more effective and integrated system, which brings people in rural areas to where they want to go, when they want to get there.
What Key Issues Does Connecting Ireland Address?
As part of the Connecting Ireland initiative, the NTA completed a comprehensive assessment of the existing network of regular public transport services operating across the country on a county-by-county basis. This has given us a clear understanding of how well the public transport network currently serves our towns and villages in terms of service levels at certain times of the day and days of the week. It has also helped us to clearly identify the issues such as gaps in the network where the option to use public transport is not available.
The transport sector is one of the largest contributors to Ireland's carbon emissions. Our reliance on the car to get around is the key reason for this. 7 out of every 10 trips undertaken in Ireland is by car, to make matters worse, half of short trips under 2km in length are made by car. We need to change our habitual travel behaviour, leave the car at home more often and commute by alternative means. Without a change in the right direction we will continue to experience traffic congestion on journeys to, from and within our towns and cities and all the associated damaging impacts on our rapidly changing climate.
How Are These Key Issues Being Addressed?
Ireland is not densely populated. Outside the major urban centres, Ireland's settlement pattern is distributed in a highly dispersed manner. Therefore, it is difficult to cost-effectively organise public transport services to cater to everyone's needs. In very isolated rural areas, the demand for travel may be so low as to preclude the provision of traditional bus services. These needs may be more readily met by innovative means, such as demand responsive services, local hackney services or community car schemes. Other factors complicating the delivery of effective public transport in rural Ireland include the trend of an aging population who often suffer diminished mobility and the trend amongst the younger segment of the population to leave rural areas to pursue employment and education opportunities in towns and cities.
While the Connecting Ireland service improvements will be led by NTA, local authorities play a key role in authorising new bus stopping places, providing roadside turning and regulatory facilities, improving access to rail and interurban station forecourts, prioritising access by bus to town and village centres and working with us to promote and market the use of public transport. These are just a few examples of what it takes to make public transport work and it will take a concerted effort by many agencies to work toward the objective of positioning public transport as the transport mode of choice.
Lack of weekend, evening and mid-day services within the existing network can lead to a mismatch between service coverage and customer demand. Poorly aligned timetables can result in lack of co-ordination with the work and school day as well as limiting access to connecting services. Service enhancements proposed under Connecting Ireland aim to tackle such issues.
A collaborative, partnership approach to public transport network planning is a principle underpinning Connecting Ireland. The extensive engagement undertaken to inform the plan has generated valuable discourse and demonstrated the value of a collaborative approach. As the country moves on from the pandemic, new transport patterns and trends will emerge. These could include the shift to more remote working hubs, increased importance of local tourism and re-imaging of urban spaces to prioritise people over car traffic. Early sharing of information on these developments will be important to ensure public transport enhancements can be planned in advance and rolled out when needed.
Benefits of Connecting Ireland
The enhanced network will greatly improve interconnectivity between communities.
We estimate the implementation of service improvements emerging from Connecting Ireland work will provide:
Over 70% of those living outside the Cities will have access to a public transport service that provides at least three return trips each weekday to a nearby town
Improved mobility options for those in remote areas with the provision of Demand Responsive and other innovative transport services
Over 100 new Local Centre connections from rural settlements in the hinterland
Over 100 new County Town connections from all types of settlements around County Towns; and
Over 60 new Regional Centre/City connections, from all types of settlements around these Centres/Cities.