Background
In April 2011, the Minister of State at the Department of Transport, Tourism and Sport (DTTS) requested that the National Transport Authority (NTA) examine the potential for bike schemes in regional cities – Cork, Limerick, Galway and Waterford.
After a period of study, design and tendering, bikes schemes were introduced by the National Transport Authority in Cork, Limerick and Galway in late 2014 / early 2015, under the initial phase of delivery, with additional stations added in Galway in 2017.
Under the current phase of delivery, the NTA is providing an expansion to the Cork Bike Scheme, primarily to the west of the existing scheme. A small expansion to the Limerick scheme will connect LIT and Thomond into the existing bike scheme, with delivery during Q4 2021.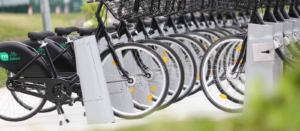 Waterford Proposal
In addition, we are pleased to confirm that the National Transport Authority is launching a new public bike scheme in Waterford City this year.
In keeping with the size and layout of the city, the scheme will see up to 14 docking stations distributed across Waterford City, offering more people the opportunity to enjoy cycling and provide a convenient and sustainable alternative to the car for shorter journeys.
As in other cities, bikes will be available to hire 24 hours a day, 7 days a week, 365 days a year so residents and visitors can always access the bikes when they need one. The operational arrangements for the scheme will be in line with those operating in the other cities, detailed here:
https://www.bikeshare.ie/how-to-hire-and-return-a-coca-cola-zero-bike.html
The bike fleet for the scheme will be distributed and managed under contract by the NTA, with a small truck re-distributing excess bikes, to ensure overall bike availability during the hours of operation.
Non-statutory Public Consultation
Design consultants for the scheme have proposed specific locations in various parts of the city for the provision of docking stations. Each separate location is indicated in an overall map with more detailed drawings showing the precise location of each proposed docking station on the attached PDFs below.
If you have any comments about the docking station locations, or any other comments, please email us at:
waterfordpublicbikes@nationaltransport.ie
The closing date for receipt of comments is 30th Sept 2021 at 12noon.
See Waterford City Public Bike Stations here.
Please download the Plans and Document at the bottom of this page
Waterford City Public Bike – Station Locations