The Leap Card team at the National Transport Authority are proud winners of the International Procurement and Supply Chain Project of the Year Award at the National Procurement and Supply Chain awards. The award was for their work developing a new Near Field Communications (NFC) App which allows instant topping-up and card balance checks from NFC-enabled smartphones. The App, which is still at the testing stage, will be brought to the public in January 2016.
The contract was awarded in late 2014, following a public procurement process, with a delivery team based in New Zealand (Snapper) and UK (Vix Technologies). The project involved an innovative use of NFC to enable the travel smart card to be read and updated by the user without any encryption keys being stored on the mobile app, thereby ensuring a very secure solution for the user and the scheme.
Although it is at an early stage in the rollout cycle, the NTA is very enthused by the initial success of the project. Tester feedback to date has been excellent, and the Authority expects that customers will immediately benefit from the increased convenience offered by the App. The NTA already has a plan for a second release in early 2016, and it is expected that this app will be a foundation app for the Leap system for years to come.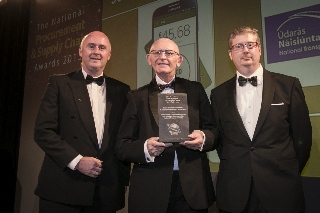 Pictured (L-R) at the National Procurement & Supply chain Awards are Declan Sheehan (National Transport Authority), Lionel McCarthy (Achilles Procurement Services) and Barry Dorgan (National Transport Authority).