Bus Éireann enhanced service and timetable this Sunday
Bus Éireann is pleased to announce significantly enhanced services and timetable to Route 270, Killarney to Skibbereen which will come into effect this Sunday, 25 June.
Route 270, Killarney to Skibbereen
Funded by the Department of Transport through the National Transport Authority as part of the Connecting Ireland Rural Mobility Plan, the enhanced Route 270 will provide five daily services connecting Killarney with Skibbereen all year round. The updated service will also a feature an enhanced weekly timetable with earlier daily departures from Kenmare to Killarney at 07:00 and later departures at 21:40 from Killarney to Skibbereen.
Bus Éireann Route 270 will serve Killarney, Glenflesk, Loo Bridge, Morleys Bridge, Kilgarvan, Kenmare, Glengarriff, Snave Bridge, Eagle Point, Ballylickey, Bantry, Durras Cross, Ballydehob Bridge, Aghadown, Church Cross and Skibbereen.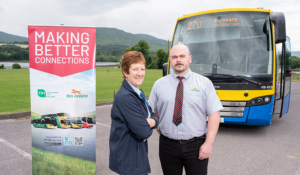 West Cork passengers offered a connection with MTU Tralee as well as rail services in Killarney
The improved service will also offer passengers from West Cork a connection with MTU Tralee as well as rail services in Killarney.
"Bus Éireann is delighted to introduce these new and improved services between Killarney and Skibbereen, linking Kerry and West Cork all year round, while significantly increasing the daily services," said Aled Williams, Bus Éireann, Senior Operations Manager, South. "Thanks to the National Transport Authority, through the Connecting Ireland Rural Mobility Plan we have added over 2 million kilometres to our network and have created over 62 new jobs. Demand for our services in the South is higher now than pre-pandemic, passenger numbers nationally are 20-30% higher than they were in 2019, this enhanced service will enable us to connect our growing number of customers with who and what matters to them."
"Fáilte Ireland welcomes the launch of the new and improved service of Route 270 connecting West Cork and Kerry all year round," said Josephine O'Driscoll, Wild Atlantic Way Manager, Failte Ireland. "Improving connectivity and car free travel routes between the two regions is key to encouraging new demographics of visitors as well as locals to explore the very best that Ireland has to offer."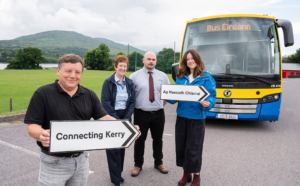 Updated service details and timetables are available at buseireann.ie.