Bus services in Galway to increase by 50% under proposed new bus network
Draft new bus network for Galway unveiled by NTA today
Public consultation on the draft new bus network underway until Friday, 2nd June 2023
NTA Published the draft new bus network for Galway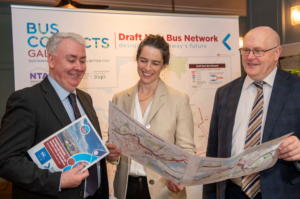 The National Transport Authority (NTA) has today published its draft new bus network for Galway. The redesign of the bus network is one of the nine key elements of BusConnects Galway that aims to fundamentally transform the city's bus system, making public transport more useful to more people.
Under the proposals within the Galway bus network redesign report, the level of bus services in Galway city, Bearna and Oranmore will increase by nearly 50%.
The added service levels will make possible the extension of bus services to new areas, more routes with frequent services, an enhanced weekend timetable and a new 24-hour route.
New 24-hour bus service
The new 24-hour bus service, to be known as Route 9, would operate from Knocknacarra through the city centre to Doughiska and Parkmore. Three proposed routes would operate every 15 minutes or better. In addition, some routes would run longer in the morning and at night.
The proposals will also result in more residents of the city and its suburbs having access to the public transport network with Upper Ballymoneen Road, the Coast Road between Galway City and Oranmore and Oranhill among the areas to benefit. More people would be located within 400 metres walk of a bus stop, 67% up from 62% currently.
The routes in the draft new bus network would serve the city centre with more routes running cross-city, and the main point of interchange located at Eyre Square. This will facilitate cross-city commuting.
Fare will be simplified
Fares will be simplified in a way that will make interchange seamless. Customers will not have to pay extra to change between urban bus services within that 90-minute period.
The new network report being unveiled today was developed collaboratively by the NTA in consultation with the City and County Councils and local bus operators, in a process facilitated by network design experts.
Consultation for 6 weeks
Consultation on the draft new network launched today will run for 6 weeks. Public information events will take place from Tuesday, 16th – Thursday, 18th May (inclusive) while an online consultation process will allow members of the public to provide their feedback on the proposals. The redesign will be finalised in the coming months and the new network will be rolled out from 2025.
Hugh Creegan, Deputy CEO of the NTA, said: "As an economic, academic and cultural hub, Galway is one of Ireland's most rapidly developing cities. With the city's population set to grow by 40,000 by 2040, it is vital that Galway has a public transport network that connect communities across the city and surrounding areas.
"Through BusConnects Galway, we want to make it easier for people to get around by reducing congestion, and to make the city more attractive for people who live, work, invest in or visit Galway. The redesign of the bus network is one of the main pillars of BusConnects Galway.
"By giving the people of Galway a viable alternative to the car, we can encourage the shift towards more sustainable transport modes. With a new 24-hour bus route and a large increase in bus services in the city as well as Bearna and Oranmore, we can connect communities and help create a more sustainable city.
"I would encourage commuters and residents across Galway to engage in the online consultation process and to share their views. The feedback will help us to finalise a much-improved bus network that meets the needs of a growing city."
Brendan McGrath, CEO of Galway City Council, commented on the draft new bus network: "As Galway city and its environs continue to grow, it is crucial that we put in place a public transport network that underpins a thriving city and accelerates our journey to a net-zero future.
"That's why we're delighted to support the NTA in the development of the draft new bus network for Galway. A 50% increase in bus services in Galway would incentivise people to make the move from the car to public transport. Galway City Council is committed to continuing our work with the NTA to implement this and other elements of BusConnects Galway."
Michelle Poyourow, Principal of Jarrett Walker & Associates, remarked: "By collaborating with the local bus operators, City and County Councils and NTA planners, we've taken a fresh look at how the Galway bus network can serve the modern needs of Galway residents, workers, students and visitors.
"The big ideas in this draft proposal are to make the bus network simpler, easier to learn and easier to use. To offer short waits, all week long, on more routes. To run buses later in the evening and on weekends when many people want to travel.
This draft network would increase the number of jobs, schools and shops that Galway residents could reach in a reasonable journey time by bus. 38% more jobs would be within a half-hour's journey time for the average resident, compared to today. One-third of residents would be close to a high-frequency bus line, up from just 19% today.
Now we hope the public will give us feedback on the big ideas shown in this draft network, as well as pointing out details that could be improved in the Final network plan."
The map of the draft new bus network for Galway
The map of the draft new bus network for Galway can be viewed Here
and at Galway City Bus Network Maps | Transport for Ireland
To take part in the consultation process, visit: https://busconnects.ie/galway