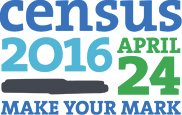 NTA encourages full participation in the Census on Sunday April 24
The National Transport Authority is encouraging everyone to take part in the national Census by completing the form in full this Sunday (April 24). The data gathered will feed directly into future transport and travel planning across the country.
Anne Graham, CEO of the National Transport Authority said: "We work closely with the CSO to analyse responses to key questions about trips to work and education. The Census dataset gives us valuable insight into people's everyday travel patterns and helps us prepare robust transport investment plans for the future.
"We recently published our Transport Strategy for the Greater Dublin Area 2016-2035, which is firmly rooted in evidence-based analyses of recent trends in population, employment and people's travel behaviour (travel patterns, journey times and mode and time of travel).
"The Census data also inform our planning of the state subsidised bus and train services across Ireland, as well as the licensing of commercial bus services."
With the Census datasets, the Authority can see changing travel needs and can work to ensure that transport services are delivered to meet these needs.
"Completing this year's Census in full is really important; we use the information gathered to help build efficient, effective and sustainable transport to support Ireland's economic, social and cultural growth", concluded Anne Graham, CEO of the NTA.
Full details on the Census, along with explanatory videos and other helpful supports, are available on www.census.ie