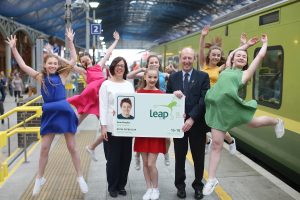 Pictured above: Anne Graham, CEO of National Transport Authority and Shane Ross TD, Minister of Transport, Tourism and Sport along with members of the Dublin Youth Dance Company.
It's 'Kids go Free' on all public transport services covered by the Leap Card from Monday 3rd July to Sunday 16th July.
The announcement was made today by Minister for Transport, Tourism and Sport Minister Shane Ross and Anne Graham, CEO of the National Transport Authority.
Free travel will automatically apply to any holder of a Child Leap Card when the card is presented.
The promotion covers the vast majority of public transport journeys in the state.
All Dublin Bus scheduled services (excluding Airlink)
All Luas services
All DART services
All Commuter Rail services in Dublin's "Short Hop Zone"
Bus Éireann services where Leap Card Validators are available. This includes:

Bus Éireann services in Dublin and surrounding counties (Excluding Expressway)
Bus Éireann Services in Cork city, Limerick city, Galway city, and Waterford city

Ashbourne Connect
Minister Ross said: "This is a fantastic initiative from the National Transport Authority which I hope will encourage lots of families to avail of public transport this summer.
"A festival like the Irish Youth Dance Festival whose performers have kindly joined us today, is a great example of an event that, thanks to this promotion, is now even more accessible to young people and families who choose to use public transport.
"I'm sure many of its participants and its audience members will avail of this great deal, and if that means attracting more young people and more families into the city centre to enjoy the great range of cultural, artistic and heritage attractions that we have, then all the better.
Anne Graham, CEO of the National Transport Authority said: "Of course, this promotion doesn't just apply to Dublin. The historic cities of Cork, Galway, Limerick and Waterford are also included.
"At a time when a lot of people still find themselves under financial pressure, we want to do everything we can to make it easier for families to get out and enjoy all there is on offer throughout the network of public transport services covered by Leap.
"One way we can do this is by making sure that the cost of transport for families is not prohibitive and our Kids Go Free promotion does precisely that.
"It also gives that extra bit of freedom to the teenagers who can now meet up with their friends in town without breaking the bank and just as important, gets them into the habit of using public transport."
This offer is valid for Child Leap Card 4-15 and Child Leap Card 16-18, (which is valid up to the holder's 19th birthday), as long as the card has at least 1 cent credit.
If you don't have a Child Leap Card, a limited number of free 4-15 Child Leap Cards are now available at the following locations:
• Dublin Bus Head Office, 59 O'Connell Street, Dublin 1
• Connolly, Heuston and Pearse Train Stations
• Bus Station, Parnell Place, Cork
• Bus Station, Ceannt Station, Eyre Square, Galway
• Bus Station, Parnell St, Limerick
• Bus Station, The Quay, Waterford
For more info about the offer click here
This free travel promotion will encourage families, children and teens to use public transport for their leisure activities in the school holidays, and to get out and about and enjoy more of what Ireland has to offer. It also highlights the cheaper fares which are available to Child Leap Card holders, and serves as a reminder for families to get their Leap Cards, and to get used to using them, in plenty of time before the new school year begins.
About Irish Youth Dance Festival
IYDF is a Festival of performances and workshops of dance by young performers, with an exciting programme of events in Ark Theatre, Temple Bar; Pavilion Theatre, Dun Laoghaire; and Liberty Park, Foley St, Dublin 1, during the month of July.
Most of the participants and many of their audience members are under the age of 18, and so stand to benefit from the promotion.
The festival is organised by Dublin Youth Dance Company and is in its 17th year, and has been hugely successful.
See their website Dublin Youth Dance Company