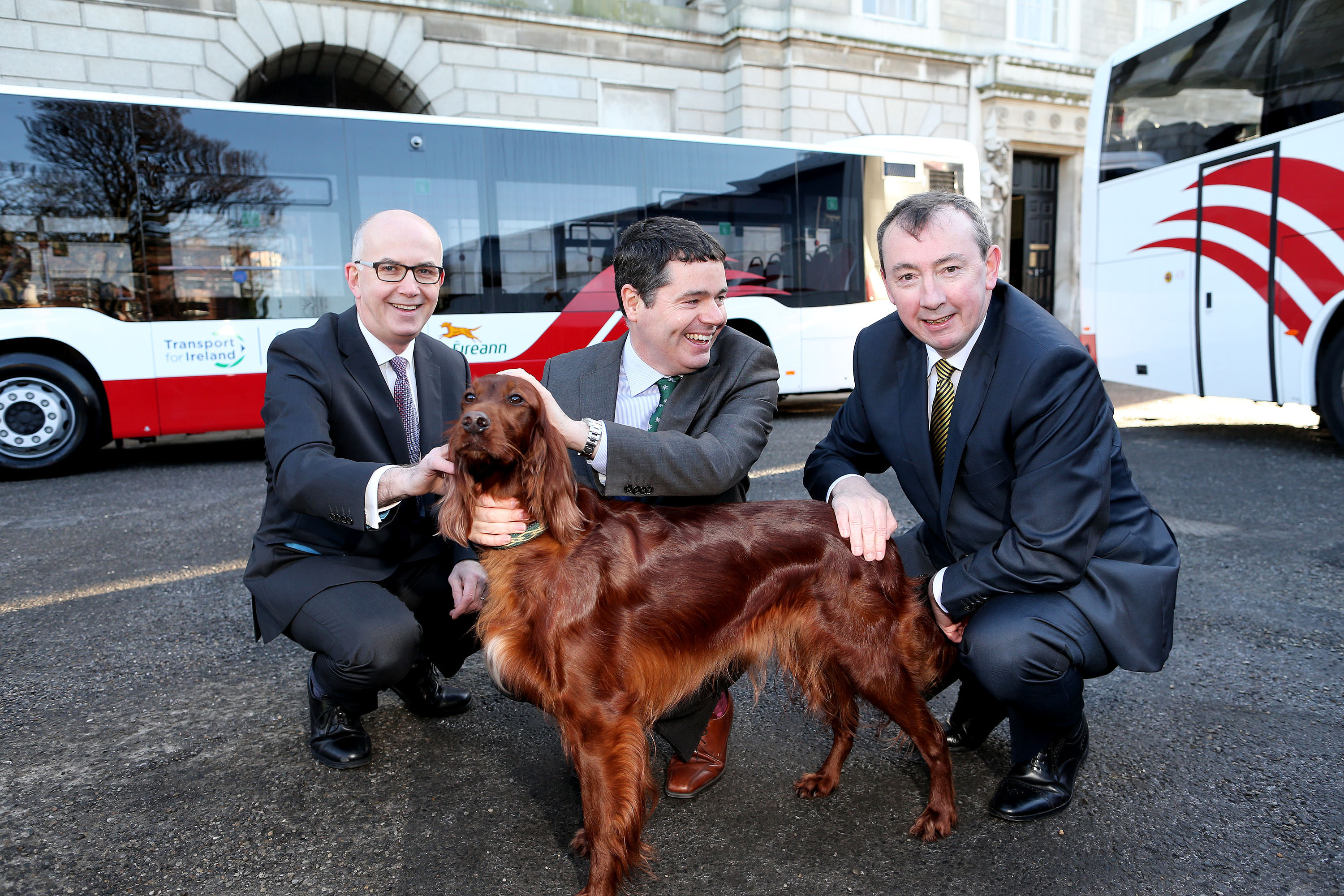 Pictured at the announcement of new vehicles for Bus Éireann are (L-R): Tim Gaston, National Transport Authority, Minister Paschal Donohoe and Martin Nolan, Bus Éireann – and Legend the dog.
New fleet
Bus Éireann's new €50 million 'fleet of the future' was officially launched today (Friday, January 15) at King's Inns, Dublin 7, by Minister for Transport, Tourism and Sport, Mr. Paschal Donohoe, and Tim Gaston, Head of Public Transport Services with the National Transport Authority.
Funding for 116 new vehicles was provided by the Department of Transport, Tourism and Sport via the National Transport Authority (NTA). The state-of-the-art vehicles feature extra legroom, power sockets [on commuter coaches], free WiFi, monitors with Real Time Passenger Information, are wheelchair accessible and have lower fuel emissions.
Some will soon enter service for customers in Cork, Limerick and Galway while others recently went into operation on commuter services in the Great Dublin Area (GDA). *
The announcement of €50 million investment in 116 new vehicles follows Bus Éireann's newly released passenger journey numbers, which show that their services continued to grow in 2015.
Passenger figures in Cork, Galway, Limerick and Waterford were up almost 4% in 2015.
Minister Donohoe said that the fleet funding, provided by his Department via the NTA, would help deliver a more modern, reliable and comfortable fleet by reducing the average age and maintenance costs of the total fleet:
"As the economy continues to grow, there is a greater transport demand generally. Ensuring that public transport is an attractive option is central to encouraging people to leave the car at home. The upgrading of the Bus Éireann fleet in this way, adds to this.
"I am glad to see passenger numbers for the company are on the rise and I look forward to seeing continued improvements and enhancements to our PSO bus services through the funding that the Government is making available for fleet and network improvements. This investment will be used to address increased demand and to respond to the increase in congestion, as the economy continues to grow. "
Increased passenger journeys
Passenger trips made on all Bus Éireann city and stage carriage services – along with commercial and other services – was 37.8 million in 2015, up 700,0000 on 2014 figures.
Over 500,000 extra journeys were made on subsidised PSO (Public Service Obligation) services last year, while over 200, 000 extra trips were made on commercial and other services – reflecting the company's commitment to supporting the recovering economy.
Passenger journeys in Cork city grew by over eight per cent, while commuter journeys to Dublin – on services in the East – were also up from 6.7 million, to 6.8 million.
Given that two full days of bus services were lost due to industrial action in 2015, the figures are encouraging and point to economic recovery in the regions.
Bus Éireann chief executive Martin Nolan said that a second year of ongoing increase in passenger journeys on Bus Éireann services was a welcome development, and that NTA funding for investment in these new vehicles was both progressive and necessary.
Further plans
"Bus Éireann have extensive plans this special centenary celebration year, including this major new fleet investment and several network improvements, which will deliver further enhanced services for our customers," he said.
We continue to work together with the National Transport Authority (NTA) and the Department of Transport, Tourism and Sport to make our bus and coach services the most accessible and economical option for travel."
"Our 2015 passenger figures augur well for renewed economic growth in the regions, which like Dublin, must be supported with a public transport infrastructure which is modern and best in class .
There is a return to congestion, and with growing demand for our services in regional cities – further priority measures for public transport remain a key aim for 2016," Nolan added.
Tim Gaston, Director of Public Transport Services, NTA, said: "The Authority is happy to allocate this funding for new fleet investment to encourage more people to choose public transport. These new vehicles, alongside the National Transport Authority's recent developments, including Real Time Passenger Information, Leap Card, and online Journey Planning, all help to make public transport the mode of choice for more and more people."