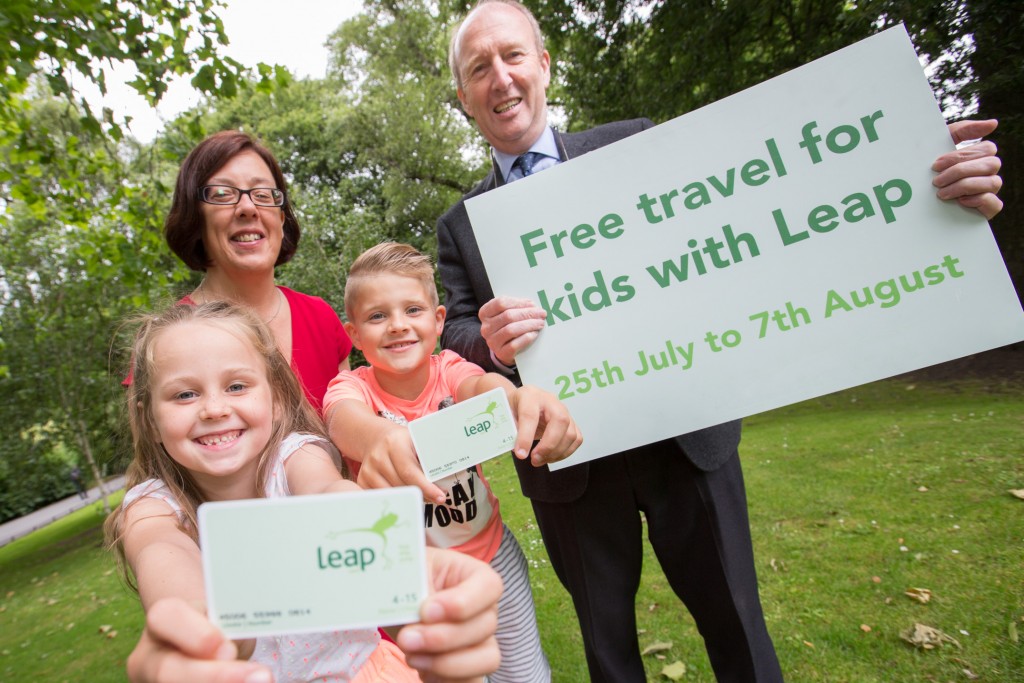 Make the most of your family's summer holidays by using public transport
All Child Leap Card holders (aged between the ages of 4 and 18) can travel free on any Leap Card service for a fortnight from Monday July 25, announced Transport, Tourism and Sport Minister Shane Ross TD today, with Anne Graham, CEO of the National Transport Authority.
The free travel will automatically apply when using a Child Leap Card on the following services from 25th July until the 7th August (inclusive):
All Dublin Bus scheduled services (excluding Airlink)
All Luas services
All DART services
All Commuter Rail services in Dublin's "Short Hop Zone"
Bus Éireann services where Leap Card Validators are available. This includes:

Bus Éireann services in Dublin and surrounding counties (Excluding Expressway)
Bus Éireann Services in Cork city, Limerick city, Galway city, and Waterford city

Ashbourne Connect
This free travel promotion will encourage families, children and teens to use public transport for their leisure activities in the school holidays, and to get out and about and enjoy more of what Ireland has to offer. It also highlights the cheaper fares which are available to Child Leap Card holders, and serves as a reminder for families to get their Leap Cards, and to get used to using them, in plenty of time before the new school year begins.
Any Child Leap Card can be used to avail of this free travel promotion (provided the card has at least 1c credit), but for those who don't yet have one, a limited stock of free 4-15 Child Leap Cards is now available at the following locations:
Dublin Bus Head Office, 59 O'Connell Street, Dublin 1
Connolly, Heuston and Pearse Train Stations
Bus Station, Parnell Place, Cork
Bus Station, Ceannt Station, Eyre Square, Galway
Bus Station, Parnell St, Limerick
Bus Station, The Quay, Waterford
Minister Ross said: "This is a fantastic initiative from the National Transport Authority which I hope will encourage lots of families with young children to avail of public transport for their summer outings. The Leap Card has been hugely successful due to its convenience and the value for money that it offers. This promotion will enable Child Leap Card holders to travel free on Leap Card services for a fortnight during the height of the summer season so I hope that families will make the most of this opportunity to make happy summer holiday memories. They can get the picnic and head to town, the park or the seaside. Have Leap Card – will travel!"
Anne Graham, CEO of the National Transport Authority said: "Over the summer, we hope as many families as possible go to town to experience all that our fantastic cities have to offer during the holiday season. This promotion doesn't just apply to Dublin – the historic cities of Cork, Galway, Limerick and Waterford are also included in the fortnight's free travel for children with Leap Cards. While there will be disruption to traffic in Dublin as we continue the track-laying for the new Luas Cross City service, this should not stop families and teens from travelling into the city on public transport and having some great days out!"
She added "Full details on where to get a Child Leap card, including identification requirements for older teens, are available online at www.LeapCard.ie".
Pictured above Anne Graham, CEO, National Transport Authority, Shane Ross TD, Minister for Transport, Tourism and Sport, Jude Davis and Lily Raethorne.