North & South Quays Local Traffic Diversion Map (download here)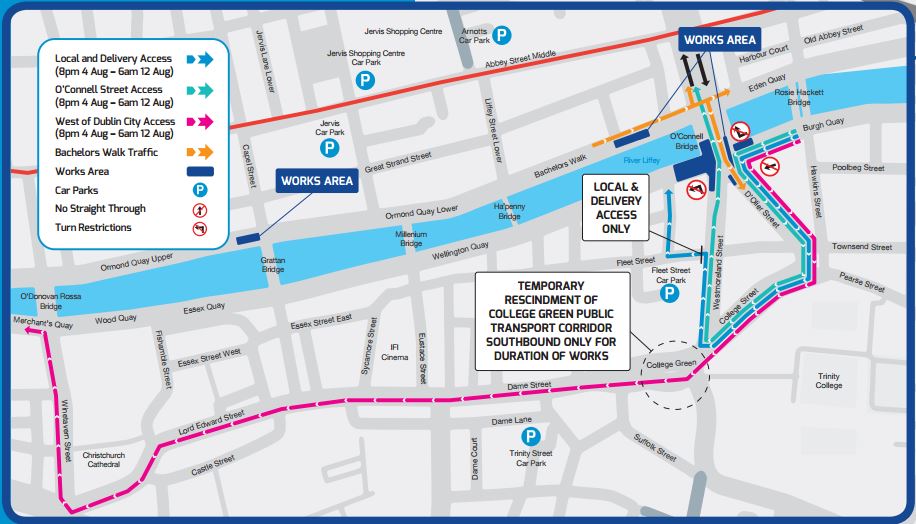 There will be major bus diversions in Dublin City due to the closure of Aston Quay from 8pm on 4th August until 6am on 12th August, due to essential Luas Cross City resurfacing works.
Dublin Bus, Bus Éireann and Commercial Bus operators using Aston Quay will be affected.
Other Useful Maps
Click here to download the Dublin City North & South Quays Inner Orbital Route Map
Going to Croke Park or the Aviva Stadium between the 4th and 12 of August 2017? Download access maps here Croke Park Access Map Aviva Stadium Access Map
Dublin Bus
Diversions for routes 25/a/b/d/X, 37, 39/a, 51D, 66/a/b/x, 67/x, 69, 70, 79/a, 83/a, 90, and 145 outbound including Nitelink Services 25N, 66N, 67N, 69N, 70N from Westmoreland Street.
For full information on Dublin Bus route diversions click here – Dublin Bus diversions
Bus Éireann
Bus Éireann services using Aston Quay will be affected, for more information check www.buseireann.ie
Commercial Bus Operators
Services using Aston Quay will be affected, a list of operators which may be affected can be downloaded here – CBO's affected by closure of Aston Quay, contact your Bus Operator from more information.
Traffic Restrictions
There will be significant traffic disruption on the North and South quays on the approach to O'Connell Bridge beginning Tuesday 1 August.
There will be full closure of the South Quays ONLY at O'Connell Bridge from 8pm on Friday 4th August until 6am on Saturday 12 August. (At Aston Quay and Burgh Quay, full depth road reconstruction will be done to create new resurfaced carriageways. This is to replace the temporary road surfaces which have been in place during the construction stages of the project. In addition, there will be smaller works taking place on Bachelor's Walk.)
O'Connell Bridge will remain open to Northbound and Southbound traffic.If you are travelling through the city, traffic diversions will apply, delays are expected so please use alternative routes.
If you are travelling to the city, access to car parks will be maintained.
Please carefully review the traffic diversion maps and local access routes available by clicking on this link www.luascrosscity.ie/news to help plan your journeys.
We wish to apologise for any inconvenience caused during these upcoming works and thank you again for your patience.