A new generation of tracks for O'Connell Street as further progress made on LCC project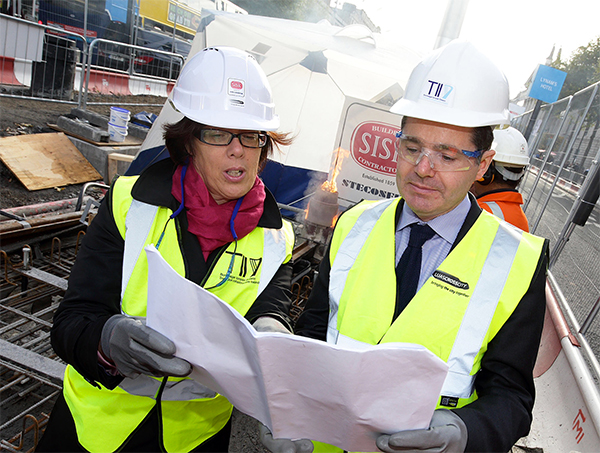 Minister for Transport, Tourism and Sport, Paschal Donohoe TD, was today (Thursday) on O'Connell Street to oversee the first welding of rail tracks for Luas Cross City project on the historic thoroughfare. The excavation and preparation for rail tracks works started in the College Green area, Westmoreland Street and O'Connell Street during August 2015. Over the coming weeks rail tracks will be delivered, laid and welded in place on key streets. Additional streets along the 5.9km route will be excavated and prepared over the coming weeks and months.
The project is due for completion at the end of 2017. It will see an additional 10 million passenger journeys with the extension of the Green Line from St. Stephen's Green crossing to O'Connell Street and onwards to Broadstone and Cabra. There will be 13 new stops, 8 of which are in the city centre, creating an interchange with the Red Line on O'Connell St and increasing public transport options for people.
Speaking at O'Connell Street today, Minister Donohoe said: 'A few months ago, I was here to see the first excavation works begin and today the welding of rail tracks on O'Connell Street is happening. It's a really important step in the project. The last tram on O'Connell Street was the Number 8 for Dalkey, which left from Nelson's Pillar on the evening of the 9th of July 1949. People can now physically see the new generation of tram rail tracks on O'Connell Street, which is an exciting step in the project's development. Over the coming weeks and months more tracks will be completed and will become part of Dublin's new street scape'.
"While there is inevitable and unavoidable disruption for people as the project continues, seeing the tracks appear on the streets clearly shows the progress of the project and that it's becoming a reality. As we approach, what we all hope, will be a very successful and busy Christmas period for shops and businesses, I am confident that the collaboration between stakeholders will be maintained to keep the city functioning and open for business."
Anne Graham, CEO, National Transport Authority, said: 'The tracks being welded into place today marks another step in the project; another step closer to completion and having an enhanced Luas service across the city. Without a doubt, a project of this type means there is a constant and sometimes difficult balance to be achieved. We need to keep the city moving, allow people to go about their day, do business, commute, live and all whilst building a new tram rail line through the heart of such a busy city'.
"We are over two and half years into the project and for the remainder of the project we will continue to work alongside traders, transport providers, businesses, residents and citizens to minimise disruption to people's day-to-day lives. Once again we would particularly like to thank the people and businesses of Dublin for their patience."
Rory O'Connor, Deputy CEO, TII, the body responsible for the delivery of Luas Cross City, also added: 'The Luas Cross City is the biggest infrastructure project in Dublin for a number of years and one which will have a lasting impact for the city. The proposed route reinstates a transport corridor in the northwest of the city centre along the former Broadstone railway cutting and provides additional access to Phibsborough and Cabra."
Main aspects of the works:
Track laying for the 5.9km route –Installing drainage, ducting and paving on the route
Road-works associated with LCC include soft-landscaping, kerbing, foothpaths, public lighting, pedestrian barriers and traffic signalling
Stops – extension of existing St. Stephen's Green stop, construction of platforms on Westmoreland St., O'Connell St. Lower and Upper, Parnell St., Marlborough St., College Street, Island platform on Dominick St. Lower
Structures – modifications on existing bridges – NCR, Cabra Road and Fassaugh Road Bridge
Overhead Conductor System (OCS)
Rebuilding of a railway line in the Broadstone cutting