Irel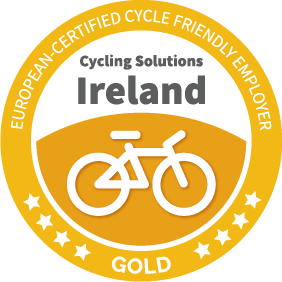 and's National Transport Authority is the latest employer to secure gold cycle-friendly status in recognition of the organisation's commitment to cycling initiatives and facilities for employees. In achieving its gold cycle-friendly status, the NTA joins a community of European and Irish employers who are using cycling to improve staff well-being and contribute to national decarbonisation and green travel goals. Other cycle-friendly employers include the Department of Transport, Pfizer, Workday, UCD and DBFL Consulting Engineers.
The Cycle-Friendly Employer programme is an EU-wide initiative first launched in 2017 by the European Cyclists' Federation and is part of Ireland's National Sustainable Mobility Policy (Goal 5 of the Action Plan: to encourage people to choose sustainable transport over the private car). It is active in 14 EU member states and provides employers with an adaptable, actionable model for cycle-friendliness in the workplace. The certification process assesses onsite cycling amenities including showers and clothes drying, bike access and storage, and bike servicing facilities as well as cultural and wellbeing initiatives such as cycling weeks, onboarding information, and community cycling events.
Cycling Solutions Ireland, the only licence-holder for the initiative in the country, looks forward to working with the NTA to introduce the programme to employers across Ireland.
CEO of the National Transport Authority, Anne Graham said: 'We are thrilled to receive this gold standard accreditation for being a Cycle-Friendly employer. It highlights the NTA's commitment to reducing our transport-related carbon emissions and to encourage more active travel. We believe as an industry leader that the NTA has a significant role in supporting more of us to cycle to work."
CEO of Cycling Solutions Ireland, Michael O'Boyle said: 'We are delighted to award gold Cycle-Friendly Employer certification to the National Transport Authority. 'The NTA is fully committed to delivering Ireland's decarbonisation goals and achieving gold CFE accreditation demonstrates this commitment comes from the ground up. We look forward to working closely with the NTA to bring the CFE programme into workplaces throughout the country.'