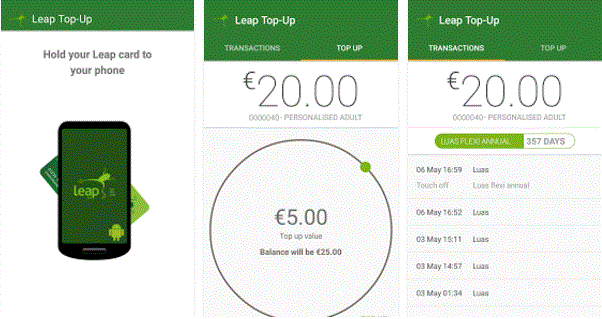 The latest version of the Leap Top-Up app has been released; in this version new functionality has been introduced to allow users securely store their payment card information so their future top-ups are quicker and easier. In addition, users can now view their last 5 Leap Card transactions at a glance with the app.
850,000 Leap Cards have been used at least once in the last 6 months. From January up to now, there has been top-ups worth €1,820,886 on the Leap Top-Up app alone. This is made up of 131,387 top-ups.
The Leap Top-Up is a free App for NFC-enabled Android phones. It allows you to instantly Top-Up your Leap Card, check your balance and collect tickets anytime, anywhere. The app has been hugely successful since its launch in January and has been downloaded over 50,000 times to date.
Anne Graham, CEO of the National Transport Authority, said: "We have been listening to customer feedback since we launched this hugely popular app back in January, and the addition of these new features will greatly improve people's experience using the app".
The app is available to download for FREE from the google play store.
For further information on the app including a helpful video on how the app works and a useful list of FAQ's visit www.leapcard.ie/leap-top-up-app