National Transport Authority reports strong public transport performance in 2015 – passenger numbers up by 3.6%

Luas and Iarnród Éireann Irish Rail see numbers rise by 6.1% and 5.3% respectively over the year

Busy transport agenda for the year ahead – including progress on Luas Cross City, and more bus and rail services
The National Transport Authority today (January 5) published full-year figures (preliminary) for each of the state-supported public transport operators for 2015. All operators saw passenger numbers grow over the year, with Dublin Bus (who carry over half of all public transport passengers in Ireland – 119.5 million) passenger figures up by 2.8% in 2015, despite the on-going Luas Cross City construction works in Dublin City Centre.
Luas saw the largest growth – up 6.1% to 34.6 million passengers in 2015, followed by Iarnród Éireann Irish Rail – up 5.3% to 39.8 million. Bus Éireann continues to demonstrate passenger number growth, up 1.7% to 30.2 million for their subsidised services.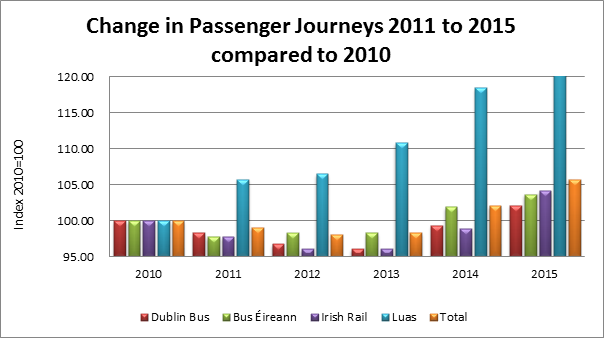 Anne Graham, CEO of the National Transport Authority said: "These are strong growth figures for the sector, and the operators and their staff should be proud of their achievements.
"The National Transport Authority has an over-arching role across the entire public transport sector; we oversee the granting of the annual Public Service Obligation (PSO) subsidy to operators, and we manage their performance to contracted standards, publishing quarterly reports on our website. We facilitate operators working together, to bring a more streamlined and integrated public transport service to people, going where they need to go at times to suit them. We have developed whole-sector products, such as the Leap Card, Real Time Passenger Information, integrated transport mapping and Journey Planning tools which have helped boost passenger numbers right across the sector, by making transport easier for people to use."
She added that the National Transport Authority had just completed a very busy year, and was today issuing a top-line report of its 2015 activities, which included devising and consulting on a Transport Strategy for the Greater Dublin Area 2016-2035, reviewing plans and recommending decisions on the DART Underground and new Metro North projects, streamlining public transport fares across all PSO operators, rolling Leap Card out to Limerick (and celebrating over a million Leap Card sales since launch), reviewing and consulting on a new fares structure for the taxi industry and working closely with local authorities in Dublin and around the country to improve infrastructure for public transport users, and facilities for cyclists and pedestrians.
Anne Graham said that 2016 would be another busy year for the NTA, with a strong focus on delivery.
"The Luas Cross City project will be a major focus for us in this current year, managing major construction works through the heart of Dublin while keeping the city open for business. We will be progressing our open-market tendering for 10% of the Dublin and national bus routes, opening the Phoenix Park tunnel to passenger trains to bring new routes to people travelling into Dublin from Kildare, and we will be closely examining and improving bus and rail services, and bringing new bus fleet vehicles, in Dublin and throughout Ireland.
Passenger Journeys for Public Service Obligation (subsidised) services in millions
Year
Dublin Bus*
Bus Éireann*
Irish Rail
Luas
Total
Change from previous year
Percentage change from previous year
2010
117.05
29.13
38.23
27.53
211.94
2011
115.05
28.48
37.38
29.10
210.01

-1.93

-0.9%
2012
113.28
28.63
36.74
29.32
207.97

-2.04

-1.0%
2013
112.49
28.64
36.74
30.51
208.38
0.41
0.2%
2014
116.26
29.69
37.80
32.61
216.36
7.98
3.8%
2015Preliminary**
119.5
30.2
39.8
34.6
224.1
7.74
3.6%
Journey numbers (millions)

2015 V 2014

3.24
0.51
2.0
1.99
Growth 2015
2.8%
1.7%
5.3%
6.1%
*Bus passenger figures exclude passengers on commercial services, as these services are not subsided.
** Preliminary figures for full year 2015 provided by the operators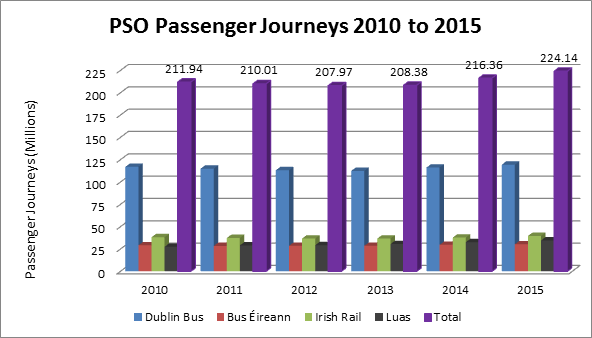 National Transport Authority Milestones 2015