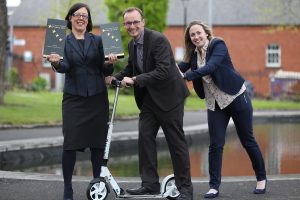 Pictured: Anne Graham – National Transport Authority's CEO with Ivan Griffin of UCD and Aimee Reed of National Trust Limerick
NORTHERN TRUST LIMERICK AND UNIVERSITY COLLEGE DUBLIN (UCD) ANNOUNCED AS SMARTER TRAVEL WORKPLACE AND CAMPUS OF THE YEAR
– Smarter Travel Awards recognise workplaces and campuses that support sustainable travel
The winners of the annual Smarter Travel Awards were announced at an event at the Ashling Hotel, Dublin on Thursday April 27th, with Northern Trust Limerick being awarded Smarter Travel Workplace of the Year, and University College Dublin (UCD) being recognised as the Smarter Travel Campus of the Year. Partners of the Smarter Travel Workplaces and Smarter Travel Campus programme from around the country submitted entries to the awards competition which recognise and celebrate the efforts that workplaces and campuses make to promote sustainable travel.
Anne Graham, Chief Executive Officer at the National Transport Authority said: "A growing network of organisations in Ireland are engaging in Smarter Travel, working with their staff and students to facilitate travel choice in favour of more sustainable transport, resulting in reduced costs, enhanced employee wellbeing, better access and more effective parking management. Internationally workplace travel plans have been shown to reduce single-occupant car use by 10-24% The promotion and facilitation of cycling in particular, both on campuses and in workplaces made for strong competition, which highlights the growing interest in cycling across Ireland. The Awards are well placed to act as inspiration and leadership as we recognise organisations that are paving the way for more sustainable travel options."
Winners in the workplace categories included: Northern Trust, Limerick; Limerick City and County Council; and St Vincent's University Hospital, Dublin. Winners in the campus categories included University College Dublin, University of Dublin, Waterford IT, Maynooth University, and Dublin City University.