Leap + 1 , a unique promotion for Transport for Ireland (TFI) Leap Card users
Offer applies to travel on Transport for Ireland services when using your TFI Leap Card on Saturday 4th, Sunday 5th and Monday 6th of February
The National Transport Authority (NTA) is delighted to launch a unique promotion for Transport for Ireland (TFI) Leap Card users.
Saturday 4th, Sunday 5th and Monday 6th of February
This "Leap +1" offer will entitle a TFI Leap Card user to bring someone on-board eligible TFI train, tram and bus services for free across the February Bank Holiday weekend, Saturday 4th to Monday 6th of February inclusive.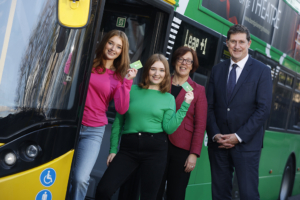 As part of the Leap +1 promotion, any passenger paying their fare using a TFI Leap Card can bring one person to travel with them for the duration of their journey, free of charge, on participating services.
Customers will simply present their TFI Leap Card to pay for their journey or validate a pre-loaded ticket as normal, and bring someone along for free for the duration of their journey.
The TFI Leap Card scheme has been a huge success with over six million cards sold and over one billion passenger journeys recorded.
Commenting at today's launch, Minister for Transport, Eamon Ryan TD said: "The TFI Leap Card has gone from strength to strength and it continues to expand with the roll out of the young adult Leap Card. Over 80,000 young adult cards were purchased from July last year to the end of the year.
"Public Transport customers across Ireland are responding positively to our improved and expanded services on the network with passenger numbers, now back to pre-Covid levels. Ireland is one of the few European countries where public transport has bounced back in such a strong way. This Leap +1 means that even more people can experience what our public transport system has to offer. It's an initiative that's good for friends and family and that's good for our environment, as we enjoy this first February Bank Holiday."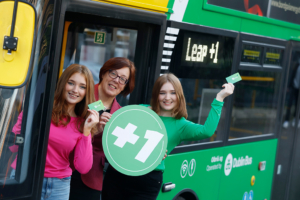 Anne Graham, NTA CEO, said: "This February Bank Holiday weekend I invite people to experience how their TFI network of trains, trams and buses has improved and expanded, while offering a greener, more connected public transport system.
"The NTA has set an ambitious target to increase public transport services across Ireland to help connect the nation, while also placing a strong emphasis on reducing public transport emissions.
"The Leap +1 initiative provides the opportunity for people to come together this Bank Holiday weekend to meet up with friends and family while using public transport which is a more sustainable choice."
On average 450,000 journeys are taken across the country each day using a TFI Leap Card with the majority of Leap Card passengers using Dublin Bus, Iarnród Éireann, Luas and Bus Éireann services.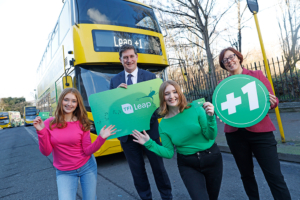 The TFI Leap Card is a prepaid travel card that is the easiest way to pay your fare on public transport around Ireland. It is valid on DART, Commuter Rail, Dublin Bus, Go-Ahead Ireland, Luas, Bus Éireann and most TFI Local Link services – as well as a range of other TFI bus services throughout Ireland.