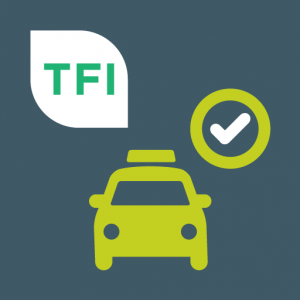 With the Christmas season upon us, whether people are shopping, socialising or working, travelling by taxi is a safe, convenient and reliable option.
The National Transport Authority, An Garda Siochana and Irish Taxi Drivers Federation are urging people to leave the car behind during the festivities, and make use of our excellent taxi service for door to door service on a 24/7 basis.
Joe Herron, President, Irish Taxi Drivers Federation says: "Be safe and travel by taxi this Christmas. Enjoy the trip and enjoy the festive season!"
NTA, the Taxi Regulator, says: "Taxis are a crucial part of our public transport system, and for many passengers at this time of year in particular, are simply the best way of getting from A to B."
"We love to get feedback – positive and negative. Both compliments and complaints can be submitted to the National Transport Authority on our feedback form at www.transportforireland.ie/taxi/taxi-compliments-complaints / or by calling 0818 064 000.
"There is no doubt that the vast majority of taxi passengers will enjoy a pleasant trip delivered by a professional, courteous driver. However, if you feel something could have gone better we would urge you to get in touch with us and let us know about it. All compliments will be passed on to the driver and all complaints will be dealt with by one of our compliance team.
"We would also encourage people to use our Driver Check App, which allows users to verify that the vehicle that they are about to hire has been correctly registered and that the driver has the appropriate licence to operate the vehicle. This service protects passengers, and protects the interests of the majority of operators who are in full compliance with the SPSV licencing regulations. Our Driver Check App covers licensed taxis, hackneys and limos. It is a handy tool that ensures your safety and comfort when hiring a driver or vehicle.
"The Driver Check App allows users to search by the car registration number, the vehicle licence number or the driver licence number."
Superintendent Thomas Murphy, An Garda Siochana Regional Traffic Division, urges the public to use Driver Check, "Who's going to drive you home tonight? Be safe and use the App".
You can download the app free from the Apple App store for iPhone and iPad, or Google Play store for Android devices.
Finally, it is not unusual for passengers to leave items such as mobile phones or Christmas presents behind when they get out of a cab. An Garda Síochána is also responsible for lost property handed in by drivers, so contact your local Garda Station.