GDA Transport Strategy provides framework for further investment in services and infrastructure
Provision of more public transport services will encourage further growth of people using sustainable and active travel across the region
A substantial increase in the numbers of people using sustainable and active travel is among the primary objectives of the Greater Dublin Area (GDA) Transport Strategy published by NTA today.
Greater Dublin Area (GDA) Transport Strategy
The Strategy covers Dublin city and county as well as the counties of Meath, Kildare and Wicklow.
The Draft of this Strategy was published for public consultation in 2021 and 1020 submissions were made as part of that process.
NTA is required under statute to review the GDA Transport Strategy every six years and today's document is a revision of the plan that was adopted by Government in 2016. This Strategy was approved by Minister for Transport Eamon Ryan after last week's Cabinet meeting.
Proposed Elements
Among the elements that have already been proposed and which are to be further progressed and delivered during the lifetime of this Strategy are:
All elements of Bus Connects Dublin
Increased bus prioritisation on regional bus corridors
Revised and enhanced GDA Cycle Network Plan
Provision of high-quality pedestrian facilities and pedestrianised routes
Next Generation Ticketing
Luas extensions to Finglas, Lucan, Poolbeg and Bray
100km of electrified rail under DART+ Programme
Metrolink from north of Swords to Charlemont
What is included?
Newly-proposed plans in this Strategy include:
Provision of a new rail line from the M3 Parkway to Navan;
Extending the DART+ programme to deliver electrified rail services to Sallins/Naas, Kilcock and Wicklow
Assess the requirements for new Metro lines when updating the Strategy in six years, including previously considered options on the southside.
The planning and design of a further eight Luas extensions/ new Luas lines to be ready for construction post 2042:

Luas to Clongriffin
Luas to Balgriffin
Luas extension to Tyrellstown
Luas to Blanchardstown
Luas extension to Clondalkin
Luas to Tallaght / Kimmage
Luas to Tallaght / Knocklyon
Luas to UCD / Sandyford (reduces future passenger congestion on the Green Line in the future)
Transport proposals the NTA is bringing forward, including an acceleration of investment in walking and cycling infrastructure, will also deliver substantial greenhouse gas reductions during the lifetime of this strategy.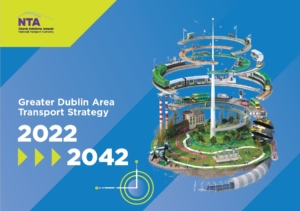 This Transport Strategy has been developed to be consistent with the spatial planning policies and objectives set out in the Regional Spatial and Economic Strategy (RSES) as adopted by the Eastern and Midland Regional Assembly in June 2019, and finalised in January 2020. These objectives in turn are consistent with the National Planning Framework and the National Development Plan as set out in Project Ireland 2040.
This Transport Strategy is also aligned with national policies on sustainability as set out in climate action and low carbon legislation, and in climate action plans.
Under the Strategy, greenhouse gases linked to public transport will fall dramatically. This will come about as a result of further investment in Dart and Luas, which are already fully electric, but also as a result of the complete transition away from fossil fuels for buses within 13 years.
Overall transport emissions are to reduce by 50% by 2030 under the Climate Action Plan published recently and by 69% over the course of this Strategy but transitioning fleet to zero-emission fleet means that public transport itself will go beyond those figures.
However, additional measures will be required to further incentivise a move away from diesel and petrol fuelled journeys. To that end, NTA will undertake a detailed assessment of such measures – particularly in the area of demand management – which is likely to include: new parking arrangements; zonal charging; tolling and road pricing; and further vehicle electrification. This will not be in the immediate term, however.
NTA Chief Executive Officer Anne Graham said: "With the planned completion of projects such as BusConnects, Metrolink, Luas extensions and Dart+, this Strategy has the potential to be truly transformative, not just for the city, but for the entire region.
We want to provide more people with better public transport and active travel alternatives so that communities across the region can thrive and develop in a sustainable way in the years and decades ahead.
NTA looks forward to working closely with the Government, local authorities, state agencies, transport operators and local residents in turning this ambitious Strategy into a reality."
Minister for Transport Eamon Ryan said: "This is a really significant plan for the country's capital and the surrounding counties. This new GDA Strategy when delivered will bring back the sort of comprehensive rail network we had at the start of the last century – but it will be cleaner, faster and better value for money.
"In the immediate term, it prioritises public transport and active travel – with aims to transform our bus network and service over the coming years, so that we can also achieve our climate ambitions. This is good plan for Dubliners. It's a good plan for business and development, and it's a good plan for the millions of visitors the city welcomes every year."
More information at Greater Dublin Area Transport Strategy – National Transport.