Greater Dublin Area Transport Strategy
The Transport Strategy for the Greater Dublin Area, 2022-2042 has been prepared and published by the National Transport Authority in accordance with Section 12 of the Dublin Transport Authority Act, 2008.
It sets out how transport will be developed across the region, covering Dublin, Meath, Wicklow and Kildare, over the period of the strategy and has been approved by the Minister for Transport in accordance with the relevant legislation.
The Transport Strategy report can be downloaded from the links below.
Download
File type

PDF

File size

– 34 MB
File type

PDF

File size

– 27 MB
The Transport Strategy is accompanied by the updated Greater Dublin Area Cycle Network, which can be downloaded via the link at the bottom of this page.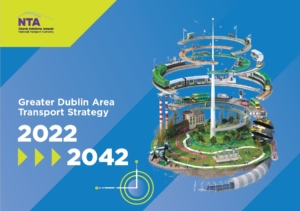 A report summarising and setting out the Authority's response to each of the submissions received during the public consultation was prepared following the end of the period for making submissions and is also published below.
In compliance with Article 9(1) of SI 435 of 2004, a Strategic Environmental Assessment (SEA) of the draft Strategy has been carried out. An Environmental Report has been prepared which assesses, at a strategic level, the likely significant effects on the environment of implementing the draft Strategy. An SEA Statement was prepared on approval of the Strategy.
In compliance with EU Council Directive 92/43/EEC on the conservation of natural habitats and of wild fauna and flora, commonly known as the Habitats Directive, an Appropriate Assessment has also been carried out and a Natura Impact Statement has been prepared to determine if the draft Strategy will impact on the integrity and conservation objectives of relevant Natura 2000 sites. An Appropriate Assessment Determination is included within this statement. All documents related to the environmental assessments can be downloaded below:
Background Documents
All of these documents can be downloaded from the links below: