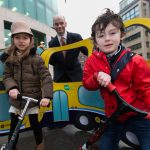 10,000 travel diaries to be collected nationwide
Research will assist in future transport provision planning
The National Transport Authority (NTA) today announced the start of their National Household Travel Survey 2017 which will collect information on travel patterns of the Irish public, targeting over 6000 households from all over Ireland.
Barry Colleary, Head of Transport Modelling and NTA Spokesperson, said:
"The Household Travel survey, currently being carried out by Amárach Research, will generate over 10,000 individual 3 day travel diaries from the four corners of Ireland."
"The information in these diaries, linked to the Census results from 2016, will help the NTA build a better picture of travel patterns in Ireland and will inform public debate and policy decision making."
"For example, this year the Government is undertaking a mid-term review of the Capital Plan, and the hard data collected in this survey will ensure that any proposals put forward by the NTA in that context will be reflective of the transport needs of the travelling public and of the requirements for the future provision of public transport services in rural and urban areas across the country."
The Household Travel Survey will reveal on how travel patterns have changed since the last Household Travel Survey in 2012 and it will answer questions like:
How Irish people have changed their travel behaviour as the economy moved from recession into economic recovery?
How significant is the apparent upsurge in the use of bicycles on a daily basis as a main form of transport? What impact are the "bike schemes" having?
With an increasing emphasis on fitness and health in our communities, are more people walking to school or work than in 2012?
To what extent is the car still the dominant mode of transport in Ireland?
Are more short trips being made by walking or cycling?
Households being surveyed will receive an initial letter from the Amárach Research informing them that they have been selected to partake in this survey. They will then receive a house visit from a representative who will advise on how to complete the travel diary and make arrangements to collect the information at a convenient time some days later. The Amárach representative will be available to help the householder with any of the documentation, all of which is designed for ease of use.
Participation in the survey is voluntary. The data collected will remain confidential and it will not be possible to identify any individual or household as the data will be presented in aggregate format.
Among the highlights of the 2012 Household Travel survey were:
There were 12 million trips made across the country as a whole on an average weekday.
7 people in 10 said they used a car most often for day to day journeys.
Over half of all daily trips were less than 3km in length, and over half of these short trips were made by car.
Almost 40% of all trips to school / college were less than 2km in length and almost half of these short trips were made by car.
One person in seven said walking was the mode of transport they used most often.
3% of people said that cycling was the mode they used most often.
Concluding, Barry Colleary, NTA Spokesperson, added: "We will publish the results of this survey later in the year and we want to thank all those who will participate in this important work. Good comprehensive research and data on transport use across the island is essential to the NTA's role in strategic planning of transport and in the development of an integrated, accessible public transport network."
Follow the link here for more information on the – Household Travel Survey 2017