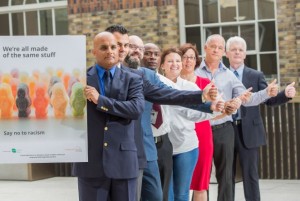 Immigrant Council, National Transport Authority and Public Transport Providers Launch Nationwide Anti-Racism Campaign
11% increase in incidents of racism reported to Immigrant Council last year
There was an 11% increase in incidents of racism reported to the Immigrant Council of Ireland in 2015. That's according to Brian Killoran, Chief Executive of the Immigrant Council, who was speaking today (09.08.16) at the launch of #StopRacism, a campaign encouraging people to report racism when they witness it.
The campaign is a joint initiative of the Immigrant Council, the National Transport Authority and nationwide public transport providers, and will see ads running across transport networks throughout Ireland this month. Dublin Bus, Iarnród Éireann, Bus Éireann, Transdev, Local Link bus services and regional taxi operators are all partners in the campaign, the most extensive of its kind in Ireland and in Europe.
"Racist incidents are under-reported, which makes it difficult to assess and tackle racism where it occurs," said Mr. Killoran. "The focus of our work with the National Transport Authority and our partners in public transport is to encourage people who witness racism to come forward, report it and receive support to address the issue.
"This is the fourth year of our anti-racism campaign on transport networks and, each year, we've seen an increase in the numbers of people challenging and reporting racism as a result.
"Last year, 240 racist incidents were reported to the Immigrant Council, compared to 217 the previous year. It was notable that 20% of reported incidents occurred on public transport. While public transport in Ireland is safe and inclusive, like all public spaces it is not immune to negative behaviours of this nature.
"Ireland's transport providers are to be highly commended for the leadership they are showing in tackling racism and in helping to promote a powerful anti-racism message. We are also delighted to receive the support of a number of local authorities for this campaign, and we hope to grow that support in future years."
'We're All Made of the Same Stuff'
The launch of the 2016 #StopRacism campaign took place today in Dublin's GPO Witness History Visitor Centre.
As part of the campaign, ads will be on display this month at over 2,000 sites across the transport network including buses, trains and trams throughout the country, and at the busiest commuter stations. The ads focus on a core message of celebrating diversity, highlighting that – as a diverse nation – our similarities far outweigh our differences. The ads also encourage anyone who witnesses racism to report it by contacting stopracism@immigrantcouncil.ie.
Commenting at today's launch, Anne Graham, Chief Executive of the National Transport Authority, said: "The Proclamation of the Irish Republic, which was declared outside the GPO 100 years ago, contains an intrinsic focus on equality and dignity. We would like to see these ideals better reflected in the Ireland of today.
"The #StopRacism campaign is the single biggest anti-racism campaign delivered in Ireland each year, and is the largest public transport anti-racism campaign of its kind in Europe. It is contributing to increased public awareness of how to report – and ultimately tackle – incidents of racism. Anyone who reports a racist incident by contacting the Immigrant Council can be assured that reports will be taken seriously and that victims will be offered support."
Statistics on Racist Incidents in 2015
The majority of racists incidents reported to the Immigrant Council last year took place in the workplace (31%), followed by on public transport (20%) and in homes and local communities (16%).
The types of racism reported ranged from verbal harassment (33% of reported incidents) to discrimination (23%) and physical violence (13%).
In 40% of the cases reported, the victim's ethnic background was Muslim, followed by African at 33%.
"The #StopRacism campaign is an important opportunity to let people know they have nothing to fear in coming forward to report racism, and that there is no room for racism on board our public transport networks," said Brian Killoran. "By reporting any incidents they witness, people are helping to tackle the overall issue of racism.
"With accurate data on the extent and nature of racist incidents, the Immigrant Council and our partners can develop better programmes and strategies to stop racism, including informing our continuing campaign for the introduction of appropriate Hate Crime legislation in Ireland."
An Garda Síochána
An Garda Síochána lent their support to the #StopRacism campaign. Commenting today, Sgt Dave McInerney, Head of the Garda Racial and Intercultural Office, said:
"An Garda Siochana welcome this campaign and the opportunity to work together to eradicate racism in Ireland. We encourage anyone who experiences or witnesses incidents they perceive as racist to come forward, report it and seek support. In An Garda Síochána we have a special unit, the Garda Racial and Intercultural Office, which is dedicated to working with anyone who has faced issues of this nature. In responding to incidents reported to the Gardaí, this office will link in with our nationwide network of Garda Ethnic Liaison Officers who are available at a local level to provide support and investigate complaints."
Further information on the work of the Immigrant Council and on how to report racist incidents is available at www.immigrantcouncil.ie.