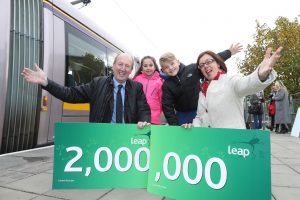 The National Transport Authority is today marking the sale of the 2 millionth Leap Card.
The 2 millionth card was sold in recent days, less than five years since the first one was rolled out on December 12th 2011.
Leap Card top-ups to the value of almost €150,000,000 have been sold in the last 12 months, with an additional €94,000,000 accounted for by monthly and annual Leap tax-saver tickets.
Leap has accounted for a total of 200,471,128 journeys since its inception in December 2011, with 67,000,000 of those occurring so far in 2016.
If you placed 2,000,000 Leap Cards end to end, they would stretch 170km, the distance from Dublin to Waterford
If you stacked 2,000,000 Leap Cards on top of each other, they would reach 1,520 meters, or the equivalent of about 12 Dublin Spires
Speaking today (Sunday, November 13) to mark the milestone, Transport Minister Shane Ross said:
"There is no doubt that Leap Card has been one of the most successful innovations in public transport in recent years.
"In 2012, its first full year of operation, Leap accounted for just over 6% of public transport journeys in Ireland. In 2015, that figure was 47%, and I have every confidence that in 2016, well over half of all journeys will be on Leap Cards.
"I would like to congratulate the NTA on this success story, which I believe has had an immensely positive impact in making public transport more attractive to the public."
Anne Graham CEO of the National Transport Authority said: "It is fair to say that Leap has captured the imagination of the travelling public, and that is because we have continued to increase Leap's functionality through a process of continuous innovation, introducing Leap Card fare capping; Leap Card Auto top-up; and Leap 90 Discounts.
"Most recently in January this year, our Leap Card top-up App went live, and already it accounts for €1.5m worth of transactions per month.
"The NTA wants to make sure that using the Leap Card continues to makes sense for public transport customers and for the operators.
"A Leap Card guarantees discounts of at least 20% on just about every journey. Leap Card is easy to use and hassle-free eliminating the need for correct change or frequent queuing at ticket machines for single tickets. Leap saves time and money and offers greater efficiencies over cash transactions."
"In addition, for people who register their cards – and we would encourage more people to do that – there is the added benefit in the security of knowing they'll get a full credit transfer onto a new card if their card is ever lost or stolen.
"We will continue to respond positively to the demands and feedback of customers, so that we can be sure that Leap continues to grow as the payment method of choice for public transport users."
For more information on the Leap Card see the website www.leapcard.ie