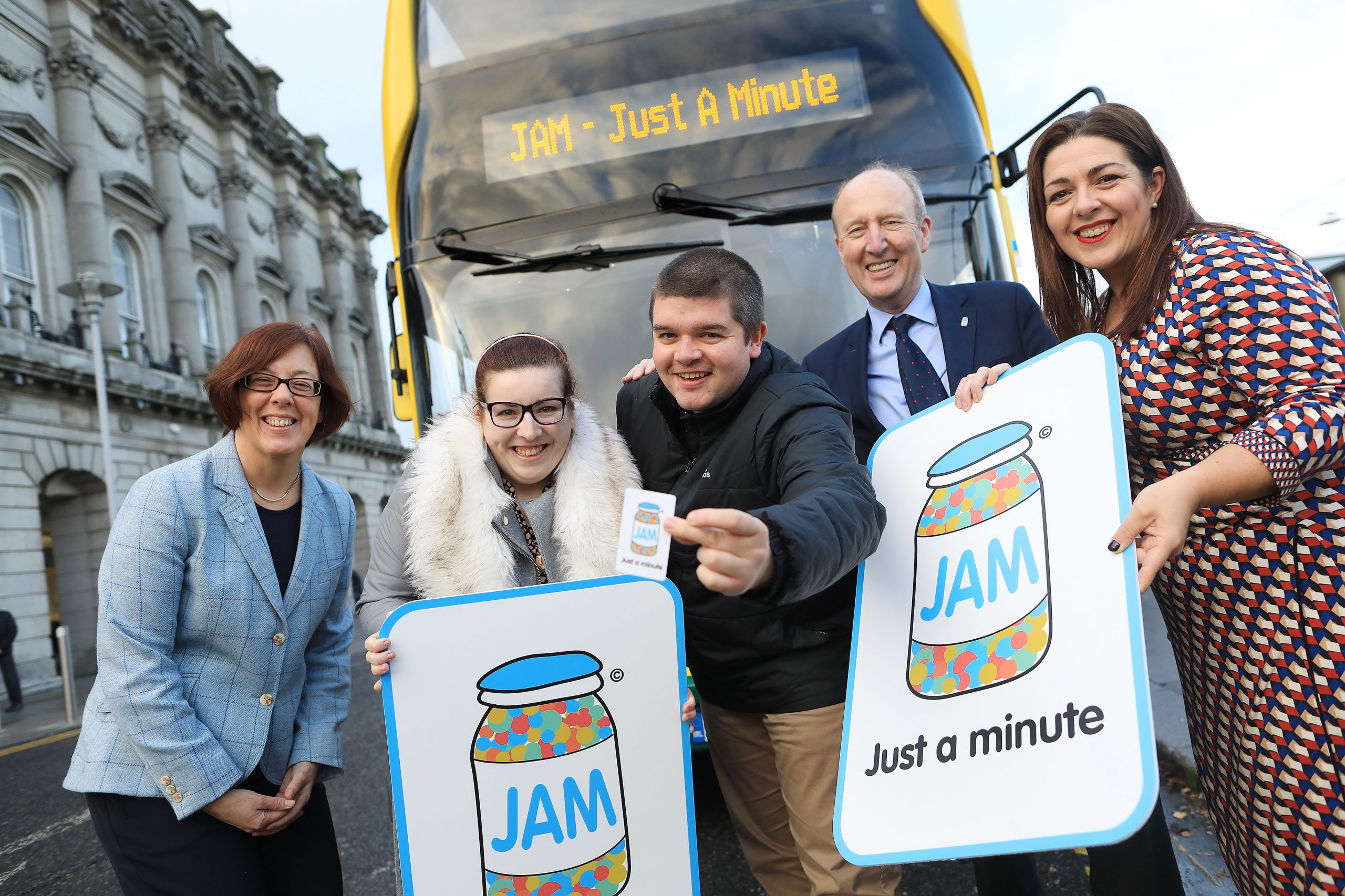 The National Transport Authority today announced the introduction of the JAM Card on all public transportation platforms.
The JAM Card is a social innovation from NOW Group, an organisation based in Belfast, which allows people with a learning disability or a communication barrier to indicate easily and discreetly that they might need 'Just A Minute' when accessing public transport.
Passengers with a learning disability, autism, or any other communication barrier can simply show the driver their JAM Card to convey that they might require a little more time and understanding. The NTA's aim in introducing the JAM Card is to continue in its efforts to make public transportation safe and accessible for all passengers, regardless of their circumstances.
JAM Cards are available in the standard card form or as a smartphone app for ease of access, and are used by over 35,000 people in the UK and Northern Ireland on public transport as well as in shops, restaurants, and other public spaces. Drivers on all Transport for Ireland platforms have been adequately trained to recognize the JAM Card, ensuring that Ireland is on the journey to becoming fully JAM Card-friendly.
Anne Graham, CEO of the National Transport Authority, said:
"We are proud to partner with NOW Group in this fantastic initiative, one that will make getting around the country easier and more comfortable for everyone.
Public transportation can be overwhelming at times, and the JAM Card allows users to signal to drivers in a discreet and dignified manner that they might need 'Just A Minute'.
We hope that using the JAM Card will help passengers to feel more confident when using public transport. We are particularly grateful to Ciaran Delaney; without his advocacy on this issue we would not be here today launching the JAM Card."
Shane Ross TD, Minister for Transport, Tourism and Sport, said:
"The JAM Card is going to have a positive impact on public transport, not only for those who use the card, but also for drivers and other passengers.
Quite often, disabilities and communication barriers are invisible. I believe the JAM Card will help the general public to be more patient and understanding when interacting with others on public transportation.
I am very pleased to back this initiative alongside the NTA and NOW Group and look forward to witnessing its success."
Maeve Monaghan, CEO of NOW Group, said:
"We're delighted to partner with the NTA to bring the JAM Card to public transport users across Ireland. We work to improve access to jobs and services for people with learning difficulties and autism.
Our participants developed the JAM Card so to see the scale of staff training and promotion to customers across the transport network is a great boost to them. It is proof that they came up with a truly innovative idea and that JAM Card training is a great way to improve customer service for all businesses."
To get a JAM Card, users can request one directly by visiting the JAM Card website and filling out the request form.
JAM Cards will be available at Dublin Bus's O'Connell Street office, as well as at the following Iarnród Éireann stations:
Connolly Station, Dublin
Pearse Station, Dublin
Heuston Station, Dublin
Kent Station, Cork
Ceannt Station, Galway
Colbert Station, Limerick
Plunkett Station, Waterford
MacDiarmada Station, Sligo
The JAM Card is also available as an app for Android and iOS.
Notes to Editors:
Alongside the JAM Card, NOW Group is a social enterprise providing a range of services that support people with learning difficulties or autism to realise their full potential. Their focus is on supporting people into employment, training and volunteering as well as offering a family service that works with new and expectant parents. The group also runs four successful cafés and a corporate catering service using the Loaf brand.