The National Transport Authority (NTA), in association with Cork City Council and Cork County Council, and in collaboration with Transport Infrastructure Ireland, has today published a Transport Strategy for the Cork Metropolitan Area. The Strategy provides a framework for the planning and delivery of transport infrastructure and services in the Cork Metropolitan Area over the next two decades.
Last year NTA published a draft strategy and undertook a period of consultation that ran for six weeks. The consultation process included a series of information events and the public were invited to provide submissions and feedback. The document published today reflects that feedback.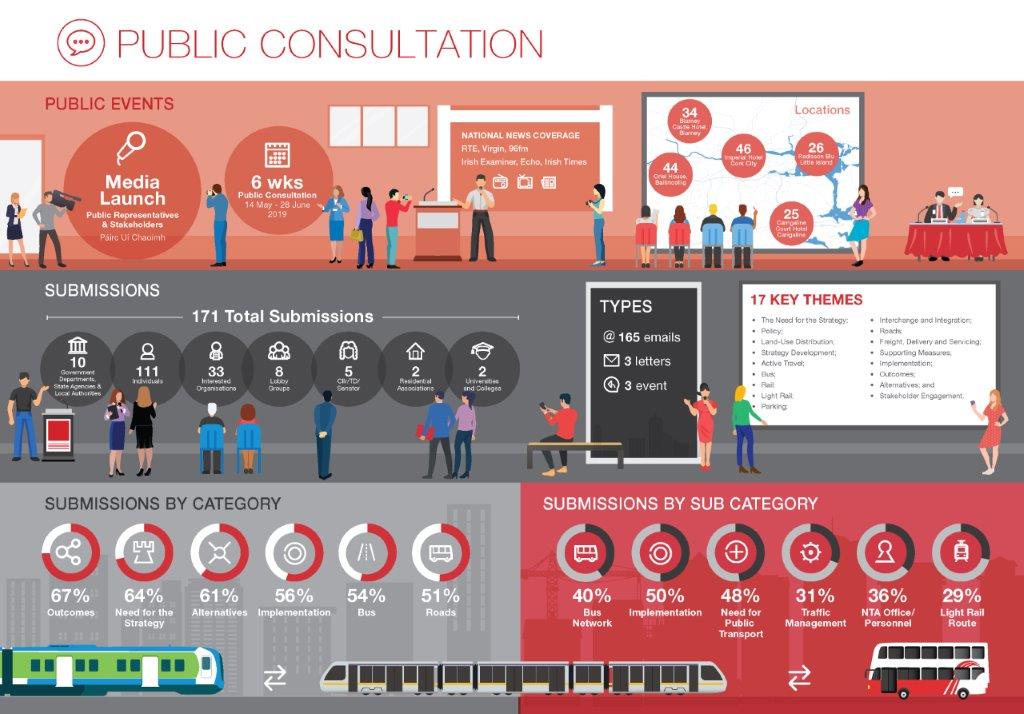 Under the strategy, the numbers of journeys undertaken every day by people using public transport in Cork will increase almost fourfold from 83,000 in 2011 to 334,000 in 2040 under the Cork Transport Strategy.
Journeys taken by bike will increase from 8,300 per day to 52,000 over the period of the Strategy, while journeys taken on foot will increase from 174,000 to 273,000.
By 2040, over half of all journeys will be on these sustainable modes, compared to just 33% at present.
Among the measures included in the Strategy are:
The Enhanced BusConnects Network
This will comprise of a significantly increased bus network, bus priority and around 220 new double decker vehicles. In total, the network will comprise of 200km of crosscity routes, 50km of orbital routes and 150Km of radial routes and will provide interchange with the Cork Suburban Rail Network, Light Rail network and proposed Park and Ride services.
In the coming weeks, the NTA and Cork City Council will establish a BusConnects Design Office to develop design proposals for BusConnects Cork. €200 million has been allocated under the National Development Plan for BusConnects Cork.
Suburban Rail
This Strategy proposes to maximise opportunities offered by the existing suburban rail network to support the travel needs across the area. New stations are planned at Tivoli Docks; Dunkettle; Water Rock; Ballynoe; Carrigtwohill West; Blackpool / Kilbarry; Monard; and Blarney / Stoneview.
Light Rail
Following detailed analysis of projected travel demand, this Strategy has determined that the East-West Transit Corridor is best served through the provision of a new Light Rail Transit (LRT) tram system. The topography and distribution of existing trip generators and attractors, combined with the proposed development opportunity areas within Cork City and its suburbs, indicate the desirability for a linear route from Ballincollig in the west to Mahon in the east, via Cork City Centre.
During April, Transport Infrastructure Ireland, in collaboration with the NTA and Cork City Council, will commence the process of appointing a specialist engineering team to undertake a route options analysis and develop initial designs for the East-west Luas line between Ballincollig and Mahon.
Cycling
Cycling is a low cost, sustainable and growing mode of transport in the Cork Metropolitan Area. Project Ireland 2040 commits to the delivery of walking and cycling networks for all of Ireland's cities. Under this Strategy, some key primary cycle routes to be improved within the Cork Metropolitan Area include: segregated routes along waterfront areas; Sallybrook/Glanmire – City Centre via Lower Glanmire Road; Model Farm Road to Glasheen Road.
Walking
A central objective of the Strategy is to get more people walking more of the time, either as part of a linked trip with other modes or as a trip in its own right. Key outcomes for walking in the Strategy include an increase in walking levels for work, education and leisure. There will be a far higher standard of urban design in new developments, and in highway design, that consistently prioritises pedestrian movement and safety over that of the private car.
Anne Graham, CEO of the National Transport Authority, said:
"The Cork Metropolitan Area Transport Strategy is all about providing long-term investment in sustainable mobility, by implementing transport projects for Cork including BusConnects, light rail, heavy rail and cycling.
I believe that process of deliberation consultation has resulted in a strategy will deliver major changes to the city and county of Cork, and NTA looks forward to working with both councils in making it happen without delay.
CMATS will deliver change at both the city and regional level in Cork, providing a reliable sustainable transport offering for local communities."
Tim Lucey, Chief Executive Officer of Cork County Council, said:
"The Cork Metropolitan Area Transport Strategy is a comprehensive plan that is essential to the future economic growth and progress of our region.
Cork is on an upward trajectory from every perspective, and the implementation of CMATS will make our county an increasingly attractive place to live and work.
This Strategy is about delivering a transport network that will enable Cork moving forward, and meet it potential.
Cork County Council looks forward to working with NTA in implementing this Strategy that I believe will be transformative for the whole region."
Ann Doherty, Chief Executive Officer of Cork City Council, said:
"These are exciting times for Cork, a city on track to grow significantly in the years ahead.
The Cork Metropolitan Area Transport Strategy will ensure that Cork is properly equipped from a transport point of view, to meet the demands that come about as a result of the kind of growth that is projected for the city.
By investing in transport now – buses, light rail, walking and cycling – we will make sure that in the future, Cork can be a great place to raise a family, start a business, go to college or make a life."
The Cork Metropolitan Area Transport Strategy, Non-Technical Summary and CMATS Public Consultation Report can be viewed and downloaded from the NTA website.