This document is the National Fares Strategy Summary, by NTA
(in partnership with SYSTRA)
from January 2023
Following the development and implementation of a new and simplified fares structure for Dublin, which combines elements of distance and equitability between routes, the National Transport Authority (NTA) in partnership with SYSTRA, have developed an approach for the rest of Ireland that will deliver to both political and commercial aspirations around better value, greater transparency and equality in respect of journey distance.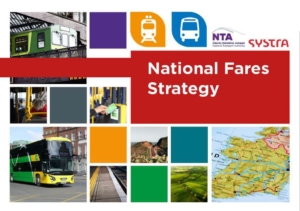 The new approach will apply to fares outside the Dublin metropolitan area for public service obligation (PSO) bus and rail services provided by the National Transport Authority under contracts with bus operators and Iarnród Éireann. It will complement the roll out of significant changes to public transport networks in rural and urban areas, such as Bus Connects and Connecting Ireland.
The evolution of both bus and rail fares over a long period of time has created complexity, discrepancies and anomalies that result in similar journeys having very different prices based on distance, service quality or other historical factors. Some of this has been hidden by the increased use of yield management pricing for advance purchase tickets on intercity rail for example, which offer good value for those able to book in advance and commit to specific journeys. However, there is still a need for simple and understandable fares for those without these purchase options, or whose travel needs may be more immediate or require flexibility.
This needs to be resolved if technology is to be more widely used in how fares and ticketing are retailed and priced. It also forms a basis upon which the application of changes to fares arising from either inflation or other factors can be applied universally across the network in a simple and achievable manner.