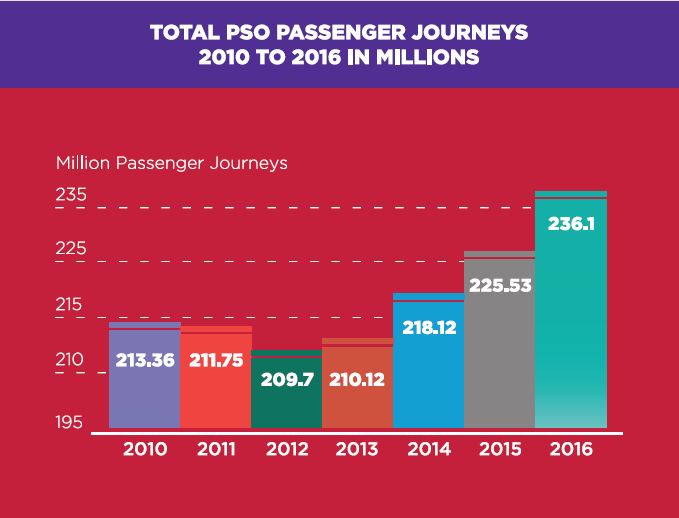 The number of journeys on subsidised public transport and commercial bus services has increased by almost 31 million since 2013, according to figures released by the NTA today.
In 2013, there were 210m passengers on subsidised Public Service Obligation (PSO) services, while in 2016, that number went up to 236m.
All PSO operators have experienced an increase in that three-year period with Dublin Bus increasing from 112m to 125m; Bus Éireann 29m to 32m; Iarnród Éireann 37m to 43m; Luas 31m to 34m. In addition, LocalLink, the rural transport programme increased passenger numbers from 1.74m to 1.79m between those years.
A positive expansion in the numbers using licensed commercial bus services is also evident, increasing by a quarter from 20m in 2013 to 25m in 2016. These bus services, which are licensed by the NTA but operate without any public subsidy, represent just under 10% of all public transport journeys.
Although a drop off in demand for public transport was witnessed during the downturn, growth in total passenger journeys over the past three years has been strong. For example, all modes of PSO funded public transport witnessed a lift. Total PSO passenger journeys grew by 8 million in 2014, a further 8 million in 2015 and grew by 10 million in 2016.
Anne Graham, CEO of the National Transport Authority said: "The figures we are publishing today are an indication that there is a clear demand for an efficient and reliable public transport service. Particularly so when the public transport alternative is environmentally friendly and offers value for money.
"It is also remarkable that we have been able to accommodate this increase in passenger numbers with virtually no increase in PSO operating capacity as measured by seat kilometres nor in the number of licensed commercial bus operators.
"In other words, transport operators across the State have managed to sweat their fleet assets to the greatest possible extent to provide services for the greatest possible number of people.
"But there's only so much that can be done within the current constraints and we are now at the point where we need significant investment to address the burgeoning problem of congestion.
"A good example of this is the BusConnects programme a suite of initiatives to radically transform public transport in the Dublin region, details of which we announced recently. The ambitious proposals will put bus services at the heart of the solution when it comes to addressing congestion in the capital.
"BusConnects proposals include, next-generation bus corridors, Bus Rapid Transit, redesigning the network of bus routes and new bus stops with better signage and information, with the overall objective of increasing passenger numbers by 50%.
"These proposals sit alongside our commitments to major rail projects such as Metro North and Dart Extension. Overall almost 200 million passenger journeys or 84% of all passenger journeys on PSO funded transport takes place in the larger Dublin area.
"But public transport is not simply a matter of concern in Dublin, and the pick-up in passenger numbers in Cork on both bus and train services is very encouraging.
"Overall growth in the Cork area has been very strong at 20.3% with Iarnród Éireann Cork commuter services growing by 29% over the past 4 years.
"During the recession, Bus Éireann passenger journeys in the regional cities suffered a similar drop to Dublin Bus although the decline in passenger journeys slowed in 2011 and stabilised in 2012 and 2013 while in 2014 a reasonably significant increase of 3.7% was seen.
"Growth in 2015 and 2016 combined was just over 8% and this growth was primarily driven by the success of the reconfiguration of bus services in the regional cities, a project initiated by the Authority.
"The NTA will continue to work with LocalLink offices in rural Ireland to deliver more public transport services to all communities, and with licensed commercial bus operators across the country in developing more routes and services."
The figures were among those included in "Bus and Rail Statistics for Ireland – State Funded Services" and the "Commercial Bus Services in Ireland – 2016 Statistics" published today (click on the links to download the bulletins).
Summary information on the statistical bulletins is available below;
Bus and Rail Statistics for Ireland – State Funded Services
The information in the bulletin is drawn largely from reports provided by the operators; Dublin Bus and Bus Éireann provide the majority of PSO bus services while Iarnród Éireann and Luas provide heavy and light rail respectively. The information dates, in the main, from January 2010 up to the end of 2016.
Topics covered in the bulletin include:
number of passenger journeys
patronage and general economic data
total operated vehicle kilometres and vehicle seat kilometres
passenger revenues
free travel scheme revenue
Public Service Obligation (PSO) subsidy
fleet details
operating fleet with wheelchair accessibility
gross cost contract operators
Commercial Bus Services in Ireland – 2016 Statistics
Data collated in this bulletin is drawn largely from information provided primarily by private operators with a licensed regular bus service which has an origin, intermediate point, or a destination within Ireland. In addition, the two principal contracted State funded bus operators, Bus Éireann and Dublin Bus, also provide such services. The information dates, in the main, from January 2013 up to the end of 2016.
Topics covered in the bulletin include:
number of operators and licenses
total number of passenger journeys
scheduled vehicle kilometres
revenue and ticketing
free travel scheme passenger journeys
fleet details
operating fleet with wheelchair accessibility