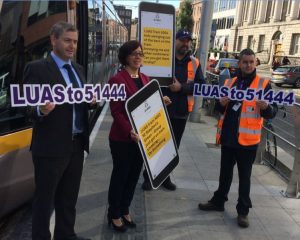 It's your Luas – See It, Report It
Text Luas to 51444, a new customer text service solely for reporting incidents of Anti-Social Behaviour.
Today, Luas operator, Transdev introduced a new text service for Luas customers. Text LUAS to 51444 is a service for customers to report incidents of anti-social behaviour.
It's a new approach using traditional communication – the humble text!
All the customer has to do is text the Keyword LUAS to 51444, state the tram number and location, text their message (up to 155 characters max) and hit send. Within 90 seconds they will receive an automated reply to assure them Luas have received the text. Meanwhile the Luas team will review and action the message in accordance with Luas protocols.
Anne Graham, CEO, of National Transport Authority, speaking at the launch today said: "Travelling by public transport and Luas in particular is a great way of getting around the city.
"However occasionally passengers encounter anti-social behaviour of one sort or another, and we want to make sure when that happens, people they have an easy and effective way of reporting it.
"This new service means that Luas staff can be made aware of these incidents and can respond to them quicker than ever, so that journeys can be even safer and more pleasant for everybody."
Dervla Brophy, Communications Manager, Transdev, speaking at the launch said "Luas is a safe, punctual and reliable tram service which Dublin has come to love, but we are always aiming to improve passenger satisfaction with the service and we believe reporting incidents of anti-social behaviour by text, in addition to the Locall number, email and twitter will improve the overall customer experience. Passengers have mentioned that a simple, discreet way to inform Luas of people misbehaving would be a good idea. This pilot we hope will inform us about customer feelings and assist us with our response".