Steps to Licensing
To become a licensed SPSV driver for the first time you need to pass the SPSV Entry Test.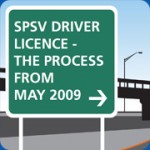 Step 1 – Ordering the manual
The Official Manual for Operating in the SPSV Industry is essential study material for the Industry Knowledge module and is available HERE.
The manual  covers the following topics:
Introduction to SPSV industry
SPSV Regulations
Vehicle knowledge
Map reading
Fares and charges
Customer service, including disability awareness and equality and diversity
Business
Health and safety
The manual will also provide guidance on how to prepare for the second section of the test, which is the Area Knowledge of the county in which you wish to operate in order to pass this section of the test. You will need to invest time in preparing for both parts of the test and you must achieve a good result in both sections of the test.
Please ensure that you have the third edition of The Official Manual for Operating in the SPSV Industry (click here).
Step 2 – Booking and paying for your test
When you are sufficiently prepared for the test, you can book your test here on this site or by calling 1890 340 123.
The Skills Development Test is administered by Prometric Ireland on behalf of the Authority at the centres set out below. The fee for the test is €86.10 and is payable directly to Prometric Ireland at the time of booking.
You can choose one of the following test centre locations:
Test Centre Locations
Abbeyfeale (Templeglantine)

Killarney

Athlone

Letterkenny

Ballina

Limerick

Cahirciveen

Longford

Carlow

Macroom

Carrick-on-Shannon

Monaghan

Castlerea

Mullingar

Cavan

Naas

Charleville

Navan (Kells)

Clifden

Nenagh

Clonmel (Cahir)

Portlaoise

Cork

Skibbereen

Derrybeg

Sligo

Donegal

Tralee

Drogheda

Tullamore

Dublin (Central)

Waterford

Dublin (North)

Westport

Dundalk

Wexford

Ennis

Wicklow

Galway

Youghal

Kilkenny
Step 3 – Sitting the test
When you are booking your test, you must select the SPSV Entry Test. You will be asked to provide your contact details, your driving licence number and your PPS number. If you have any special requirements please specify this at the time of booking. For details of our cancellation policy, please call  1890 340 123.
On the day of the test, it is essential that you bring your driving licence as your form of identification. This licence must be in date to complete the test. Your photograph will be taken as part of the validation process.
The driving licence that you provide must be an Irish category B driving licence, or one from an EU, EEA or other Recognised State. If your licence is in a language other than English or Irish, and it is either …
An EU licence issued prior to 19th January 2013, or
Issued by an EEA Member State or other recognised state
… you must obtain a certified stamped letter from the relevant Embassy stating that the licence is true and valid. (Alternatively, you may be entitled to exchange your driving licence for a full Irish driving licence – contact the Authority's industry information line (0761 064000) for further information).
The SPSV Entry Test comprises 90 questions, 54 of which make up the Industry Knowledge module and 36 of which make up the Area Knowledge module. You must pass both sections of the test in order to pass overall and you will be given your results before you leave the test centre. Please abide by all test centre rules and follow the instructions of the test centre staff. If successful, your SPSV Skills Development Certificate will be sent to you by post. If unsuccessful, you may book another test.
Step 4 – Paying for your licence
When you have received your test certificate in the post, contact the Authority and pay your SPSV driver licence fee by phoning 0761 064000. The fee is €250 and a receipt will be issued to you.
Note that this fee is non-refundable
Step 5 – Submitting your application
Apply to your local Garda station for your SPSV driver licence. You must complete an application form called FORM PSV 15. This completed form must be accompanied by your Skills Development Certificate, receipt for payment of your fee, a current tax clearance certificate, 2 photographs, your driving licence and any other documentation requested by An Garda Síochána.
Step 6 – Garda processing
Your application will be processed by An Garda Síochána. This may take some time. If your application is in order and you are deemed a fit and proper person, you will then be granted an SPSV driver licence. Please await confirmation of this from An Garda Síochána. You will receive your ID card and smart card in the post from the Authority.
Step 7 – Becoming operational
On receipt of your driver ID card and smart card you are now ready to operate a licensed vehicle in the SPSV industry.
Important Notice: Fees unless otherwise stated are non-refundable. For further information on this or other customer service issues please visit www.nationaltransport.ie or phone 0761 064000.