Licensing of Public Bus Passenger Services
Under the Public Transport Regulation Act 2009, the National Transport Authority has taken over the regulation of public bus passenger services. These services were previously regulated by the Department of Transport under the Road Transport Act 1932. The Act obliges all operators to be licensed if they are providing public bus passenger services and is applied equally to both private and state companies. Public Service Obligation (PSO) services covered by Public Service Contracts (PSC) do not fall within the licensing system.
Brief Guide for Licensed Bus Operators
To help you understand the licensing regime and any obligations that you may have in this regard, the Authority has developed the attached "Licensing of Public Bus Passenger Services, A Brief Guide for Bus Operators".
The Guide is designed to be an aid not only to new entrants to the market, but also to existing licensed operators.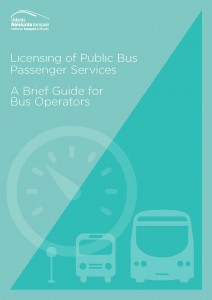 If you require any further information, please contact us either by e-mail to buslicensing@nationaltransport.ie or by ringing a member of the bus licensing team 01 879 8300.