Licence Certificates
When you successfully license a vehicle as an SPSV you receive very important pieces of documentation:
Two tamper-proof licence discs
A vehicle licence certificate
Tamper-proof Licence Discs
On successful completion of your Initial Suitability Inspection or Licence Renewal Assessment, the Licensing Inspector records the details on the Register of Licensed SPSVs and then applies two tamper-proof discs to your vehicle: one in the front window and one in the rear window. This marks the vehicle as a licensed SPSV.
The tamper-proof disc differs in colour depending on the category for which you have been licensed:
Taxis have a yellow disc
Hackneys have a blue disc and
Limousines have a silver disc.
The key features of the new format tamper-proof licence discs are displayed below:
The tamper-proof licence discs are attached using a green surround which marks the discs as void if removed. Each disc contains the following information:

Vehicle licence number;
Vehicle colour;
Vehicle make;
Vehicle registration;
Licence expiry date;
Number of passengers for which the vehicle is licensed;
A number of additional security features including an encrypted barcode to establish the authenticity of the tamper-proof licence disc
Vehicle Licence Certificate
In addition to the tamper-proof discs, a licence certificate is also issued by post to the vehicle licence holder's address. This is an important document so licence holder should ensure their contact details are correct at all times.
This certificate contains important information regarding your licence and is required when transferring or surrendering a licence.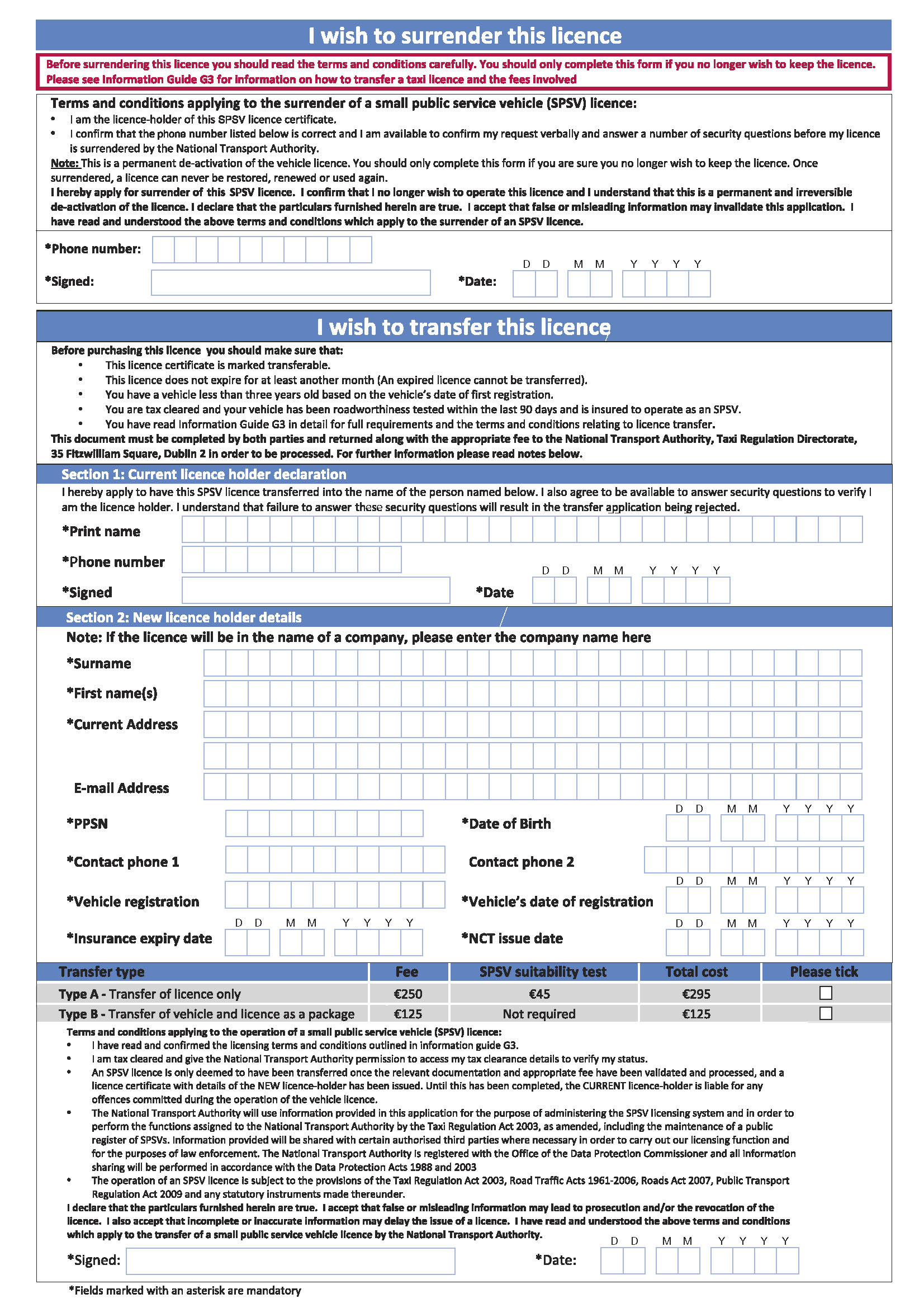 The reverse of the form acts as both a transfer and a surrender form, and must be used when completing either of these transactions.To surrender the licence you should complete the "I wish to surrender this licence"section of the form.To transfer the licence you must complete the "I wish to transfer this licence" section of the form.Section 1 must be completed by the current licence holder (seller) and Section 2 must be completed by the applicant (buyer).Once completed the original certificate and relevant payment must be submitted to the address below to be processed.
SPSV Licensing Applications
PO Box  436
City North Business Park, Tuam Road, Galway