NAVY V NOTRE DAME event, on 26th August 2023
Ireland is hosting the Notre Dame Vs Navy American Football game in the AVIVA stadium on Saturday 26th August.
There will be over 39,000 American visitors in Dublin for 4-7 days
Events are being held in Dublin Castle, Dame Street and the AVIVA stadium
College Green and Dame Street is being closed on 26th August from 12 noon to 6pm
For the AVIVA stadium temporary taxi ranks are set up and further details can be found below
On Saturday 26th August, temporary taxi ranks have been established at the following locations for drop-offs and pick-ups for the AVIVA Stadium
Merrion Square West – From 19:00 on 26th August until 02:00 on 27th August
From and including first standard car parking space (facing towards William Dargan Memorial) located next to disabled parking spaces up to and including last car parking space opposite door to property 91 Merrion Square West.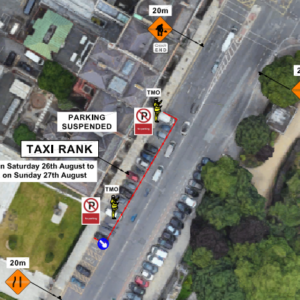 Beach Road – From 19:00 on 26th August until 02:00 on 27th August
From the south east end of yellow hatching opposite to junction with Sean Moore Road up to white hatching located near kerb before Beach Road and Church Avenue junction.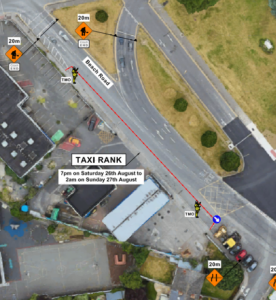 DCC have also located a temporary taxi rank on D'Olier Street as the foster place taxi rank will not be in use due to the event on Dame Street.