NTA would like to remind licence holders that, since March, late renewal fees have been temporarily waived by NTA for direct COVID-19 causes. This is considered a direct COVID-19 cause and licence holders will not be penalised for late renewal caused by delays in obtaining an NCT certificate.
Click here to see the National Car Testing Service Statement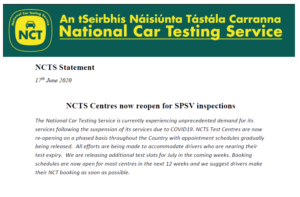 We are advised that NCTS is also experiencing high call volumes and would ask all SPSV operators to ensure they use the priority SPSV NCT Booking Line – 01 413 5960 for appointments.