SPSV Information Line
The SPSV Information line continues to receive an unprecedented number of calls, resulting in long wait times. On Monday 6 July a total of 1,004 calls were placed which is the highest number recorded on one day.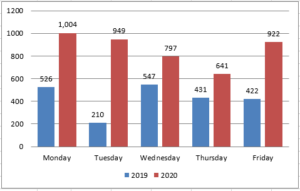 Recent weeks have seen an influx of calls in the mornings when the SPSV Information Line opens. To avoid delays NTA recommends that industry members call in the afternoon where possible when wait times have been considerably shorter. Mondays are the busiest and have the longest wait times.
General Queries
Queries which are of a non-urgent nature can should be emailed to taxis@nationaltransport.ie where possible.
SPSV Licence Suspensions
We also advice that any queries in relation to suspensions, and where a licence holder wishes to return to work after suspension, are emailed to suspension@nationaltransport.ie
Where a suspension period is due to expire, including where the 3-month maximum period for suspension has been reached, NTA will contact the licence holder directly by email or telephone.
At the end of the 3-month suspension period, unless you have indicated that you are returning to operating your SPSV, restored full SPSV insurance cover and made an appointment to have the Tamper-Proof Discs reapplied, the licence will remain inactive. The licence must then be reactivated through the standard licensing process.
NCT Related Queries
The decision by RSA to extend NCT certificates by a 4 month period has resulted in a large volume of calls being received to the SPSV Information Line. This falls outside the remit of NTA – accordingly we cannot assist in this regard.
Information on 'Voluntary NCT' tests can be found by clicking here and should be able to address many queries. For all NCT related queries and bookings, contact the SPSV NCT Line on 01 413 5960.