What is Cycle Local?
CycleLocal is a fun three-week cycling event designed to engage staff, build morale and increase activity. It will take place between July 20th and August 9th.
This is a team event where participants complete the trips on their own but share their experience with workmates and contribute to their team's tally. Short cycles outdoor and indoor count as trips. Staff who are not signed up are also welcome to join in and enter the weekly Creative Competitions. Every participant, cyclist or competition entrant plays their part in helping their organisation to win the overall prize.
So, whether we get out on our bikes to explore our neighbourhoods, enter competitions or we take to the stationary bike when the children have gone to sleep; we can stay active, enjoy the activity of cycling and remain connected to our colleagues.
How do I participate?
First, check whether your workplace or campus is registered to participate at the bottom of this webpage.
Once an organisation has registered to participate in CycleLocal, members of staff can visit the Active Travel Logger website to register their team and to invite their colleagues.
During the three weeks of CycleLocal, each cyclist will log the number of trips they complete each week.
Once a participant has been cycling for at least 10 minutes that qualifies as a trip. If you do a few loops of your estate over 30 minutes, that still counts as one trip.
Trips made should adhere to the government guidelines i.e. all trips should be within the government's distance guidelines and at least 2 metres should be kept between cyclists and other road users at all times.
CycleLocal Prizes
Teams will be eligible to win prizes each week once the team trip average meets or exceeds the modest trip targets (3 trips in week one, 4 trips in week two and 5 trips in week three). All trips count, once they take place between the morning of July 20th and midnight on August 9th.
Individuals who reach the target contribute to the organisations tally, as do all staff and their households who enter into the CycleLocal Creative Competitions. Ranking on the leaderboard is based on the number from your organisation who –
Take part in the weekly creative competitions
Cycle and achieve the weekly team targets
By ranking at the top of the leaderboard your organisation can win a memento for participants, a Best Organisation trophy and a €400 donation to the charity of your choice.
Is my organisation registered?
Check the below to see whether your workplace or campus is registered.
Accenture
Aecom
Analog
Atkins
Children's Health Ireland
Clearstream
Cork County Council
DBFL Consulting
Deloitte
Dublin City Council
Dublin City University
GMIT
Henry J Lyons
Johnson and Johnson Visioncare
Limerick Institute of Technology
Maynooth Green Campus
Mayo University Hospital
Meath County Council
National Maternity Hospital
National Transport Authority
Northern Trust
NUIG Galway
Pepsico
Roughan & O'Donovan
SEAI
Sigmar Recruitment
St. Vincent's University Hospital
Trinity College Dublin
TU Blanchardstown
Tallaght University Hospital
Transport Infrastructure Ireland
University College Dublin
Resources
Cycle Local Guides
The CycleLocal Coordinator Guide contains all the information you need to make CycleLocal a success in your organisation.
For anyone interested in setting up a team, the CycleLocal Team Guide will provide you with all the information you need.
Cycle Local Images
You can use the images below to publicise CycleLocal across your organisation, be it via email or social media.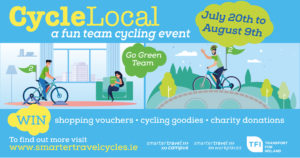 CycleLocal Facebook post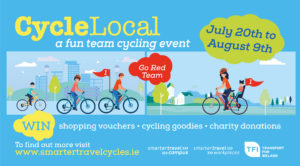 CycleLocal Twitter post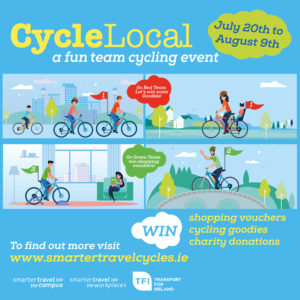 Using the Active Travel Logger
Video tutorials for Organisation Coordinators:
Organisation Coordinator – How to send email alerts to participants from your organisation using the Active Travel Logger
Organisation Coordinator – How to view teams from your organisation taking part in a challenge
Frequently Asked Questions
Terms and Conditions