You, Your Workplace and Your Wellbeing!
Good for you, your wallet and here are few things you might not know…
Are you aware that physical inactivity carries a similar health risk to that of smoking, high blood pressure, high cholesterol?
Or that your heart needs 30 minutes of moderate level activity at least five days a week?
Did you know that Cycling will have you burning off an impressive 700 hour calories per hour?
And that studies show that those who cycle to work have a significantly lower mortality rate?
Cycling can be a liberating, low stress, low cost mode of transport that will help keep you fit and well! You don't have to be super-fit, find your route and take it at your own pace and chances are you will find yourself beating rush hour traffic speeds without even trying too hard. You can feel good too for doing your bit – every kilometre cycled instead of driven saves approximately 250g of CO2 emissions (for an average car in typical urban traffic conditions).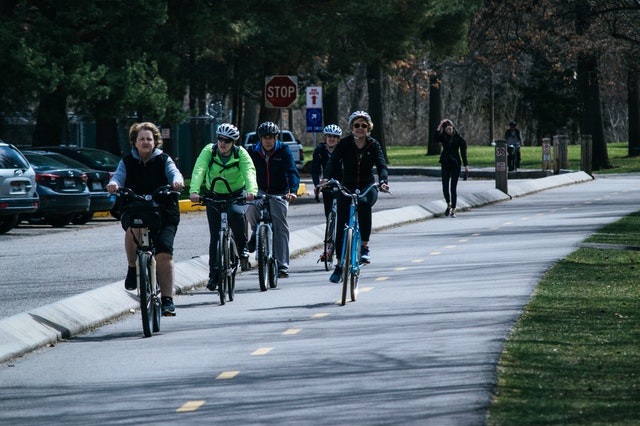 And cycling is good for business too. A survey by the Irish Nutrition and Health Foundation, part of Ibec, found that Ireland's workforce wants to get healthier and they believe their employers can play a role in helping them.
Only one third of employees take the recommended weekly level of exercise for a healthy lifestyle.
Four in ten office bound workers say they are not physically active at all during their working day.
Employees that cycle are in general happier, healthier, arriving in less stressed, fuelled on positive endorphins ready to start their day
Studies show that employees that cycle regularly take fewer sick days too.
There are many tools available to help you to calculate your calories burned, including Transport for Ireland's (TFI) Cycle Planner website and app.
How can I get started?
Choosing a Bike and Accessories
Bike – check it's in good working order, the right fit for you, and notably check the breaks, gears and lights! Why not go to your local shop and try out a few. You can buy on line, but be aware that a good bicycle mechanic will, on average, take around an hour to an hour and a half to assemble and make a bike road safe.
Lock it! – Get a good lock, it is definitely worth the investment. This typically costs about €40. For top tips on Security from the Dublin Cycle Campaign – watch their useful video with Dublin City Council and the Gardaí here.
Lights – When cycling in the dark, it's important (and the law!) to have lights (a white light at the front and red at the back). There are many high quality reliable options around powered by conventional disposable batteries, rechargeable batteries, or even dynamo "stand lights" that stay on when you stop.
Clothing – For short commutes on good surfaces, your regular clothing is fine. Longer commutes will probably need something more cycling specific- partly so you've got something fresh to wear but also you don't want to cycle too far in something too baggy that flaps in the breeze. Layering breathable gear is a good way to arrive fresh – but a good "Gore-Tex" type jacket will only work well if there are breathable layers underneath. For cycling in the City, especially if you plan to cycle after 4pm in winter it's always best to wear something reflective, either a Sam Browne belt (around waist and over shoulder) or a tabard/gilet/vest.
It's worth getting a back carrier or front basket so you can carry handbags, shoes, a change of clothing if necessary, or even some groceries.
Helmet – Much the source of debate, whether to use one or not. Modern designs are light with plenty of venting and look cool too. It's up to you to make the choice, whatever you do, make sure it fits snugly, touching all parts of your head to maximise the 'crumple zone' and real protection. Try as many on as possible before you buy and make sure you get help in your bike shop. An incorrectly fitted helmet is a waste of time. For local cycle shops see links below.
Find your Route
For help in choosing the shortest route from A to B covering most of the built-up area of Dublin, why not try the National Transport Authority's Cycle Planner (website and free app).
Features of the Cycle Planner include:
Find a cycle route via several stop-offs
Bring my bike on the train
Use a bike share scheme
Avoid hills
CO2 and calorie calculator
Places of interest near my route
Featured themed routes
Hill profile
Integrates with the National Journey Planner (for public transport)
You can download the National Cycle planner app free from the Apple App Store for iPhone and iPad, or Google Play store for Android devices.
DOWNLOAD NOW – FREE
Shared Bikes Rental Schemes
Shared bikes (like the Dublin Bike Scheme and the regional Coca-Cola Zero® Bikes) are self-service bike rental systems open to everyone from 14 years of age. They are available in Dublin, Cork, Limerick, Galway and Waterford.
All stations are equipped for Annual Card and 3 Day Ticket users. Once purchased, you can use the 3 Day Ticket similar to the Annual Card to rent or return a bike from any station in the network. You can enjoy the many benefits of an Annual Card for just €10-25. A 3 Day Ticket costs between €3-5. The first 30 minutes of use is free on every bike. For further information or to sign up visit dublinbikes.ie and bikeshare.ie
What about the traffic?
Many people state traffic is their biggest turn-off towards cycling. It's true it can get busy and a little intimidating at times. One trick is to be creative about your route – you can go many places a car can't. If you're not used to cycling in traffic it's a good idea to avoid busier roads when you start off, especially if they don't have cycle lanes. If you're in traffic, hold your position – do not ride in the gutter or marginalize yourself – your journey is no less important than anyone else's. Be clear about your intentions – signal early – anticipate silly moves.
Ride with a bell and don't jump lights or ride pavements full of pedestrians and your trip will be a lot less stressful – and chances are you'll still get there quicker than the drivers!
Exercise caution at busy roundabouts.
Watch out for opening doors.
Don't cut it too fine, leave yourself time to so that you can cycle at a comfortable pace and avoid taking chances.
For information and advice on cycle safety please refer to the Road Safety Authority.
Improved Conditions for Cyclists
In the past, many people have been put off the thought of cycling to work or college or the shops because of the unpleasant traffic environment. There was too much traffic, often moving too fast, and a lot of it was heavy trucks. By and large only experienced cyclists were willing to brave these conditions.
Cycling conditions have been improving around the country over recent years and months.
An improved cycle network and improved traffic environment in city centres means cycling is now more pleasant and safer in many areas than it was in the past.
What about cold weather?
Gloves and a scarf are of course useful on particularly cold mornings. Other than that, crisp fresh air makes cycling really fun – a break from the artificial environment of centrally heated homes, air conditioned cars and heated workplaces. And since you are moving you're generating your own heat so you'll warm up in a couple of minutes.
Cycling Make Cents!
Buying a decent bike and kitting it out costs less that the annual insurance bill for a car.
A good quality commuting bike will cost you roughly €250. Lights will cost €25, a helmet €35 and good quality rain gear will set you back roughly €60. A secure lock will probably cost you €50. All in all, that's an attractively small layout for the wheels that will always offer you a quick, easy and low maintenance means of getting around.
It is also worth checking out the Cycle to Work Scheme where you can make huge savings on your bicycle and related equipment. For further information visit the Cycle to Work Scheme information online.
For details on the cost of motoring the AA have a useful chart that breaks down the cost of motoring by car type, this can be viewed on the AA website.