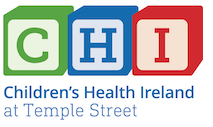 …This has coincided with a 450% increase in the number of staff cycling as well as increases in those walking and taking public transport. In 2011 we were proud recipients of the Green Healthcare Award where special homage was paid to our work in transport and also the Golden Pedal Award 2011 for promoting cycling.
Padraig Ryan, Transport Coordinator, CHI (2011)
The CHI is a core paediatric healthcare facility located in Dublin's North inner city. The hospital caters for circa 110,000 patients per annum and sees in excess of 140,000 visitors pass through its doors every year.
The CHI's current car parking levels have been operating at capacity for some time now. Hospital management identified the growing demand for car parking spaces and took the innovative step of deciding to address the issue of demand rather than increase capacity. This decision was taken with the fact that a mobility management plan would need to be submitted as a requisite of the planning permission for the National Paediatric Hospital.
Parking demand and allocation have always been an emotive issue for staff and the increased demand threatened to create a staff retention issue for management. Site congestion and the limited parking also created problems for patient and visitor access and required the development of a patient/visitor information strategy. Parking congestion and impending planning constraints led hospital management to take a strategic approach to reduce the number of single occupancy vehicles accessing CUH.
In 2005 the hospital established an on-site Commuter Centre with responsibility for the implementation of a Mobility Management Plan. The Commuter Centre would be tasked with reducing the number of single occupancy vehicles through soft measures of behavioural change. This is achieved through the generation and communication of innovative alternatives to single occupancy vehicles.
Measures taken include: participation in the annual Smarter Travel Workplaces Pedometer and Cycle challenges, upgrading of cycle parking and the development of a transport map for staff, visitors and patients to promote sustainable mode of transport while accessing the hospital. Since its inception the "Commuter Centre" has achieved unprecedented success. The graph below indicates the modal shift of how staff commuted to work in 2006 as opposed to 2011.
The table below illustrates the reduction in vehicular traffic which has occurred in tandem with increases in public transport and active transport among staff.
Further to the reduction in single occupancy vehicular traffic to the hospital by staff the Commuter Centre has also informed and assisted other patrons of the hospital in making their commute more sustainable. As part of the hospital's patient/visitor information strategy the hospital redesigned their appointment card and website to include information on alternatives modes of commuting to CUH.
The hospital also commissioned the design of a site specific access map. This map provides information on public transport access to CUH. It is available in pocket size, online and can be seen in areas of high footfall at CUH.