NTA Appraisal Toolkit
The NTA Appraisal Toolkit is an integrated suite of modules for the appraisal of social, safety, health, environmental and economic impacts of transport interventions.
The Appraisal Toolkit consists of 5 modules: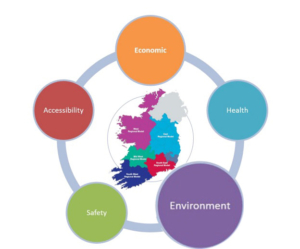 The Environmental module calculates emissions based fleet make up and vehicle speed for each road link in the model. Calculations are carried out by ENEVAL using COPERT 5 emission rates.
The Environmental Module outputs emissions by link, zone, sector or grid, which allows results to be mapped in GIS. The emissions estimated include NOx, NO2, PM10, PM2.5, HC, CO, CO2, C6H6, CH4, C4H6.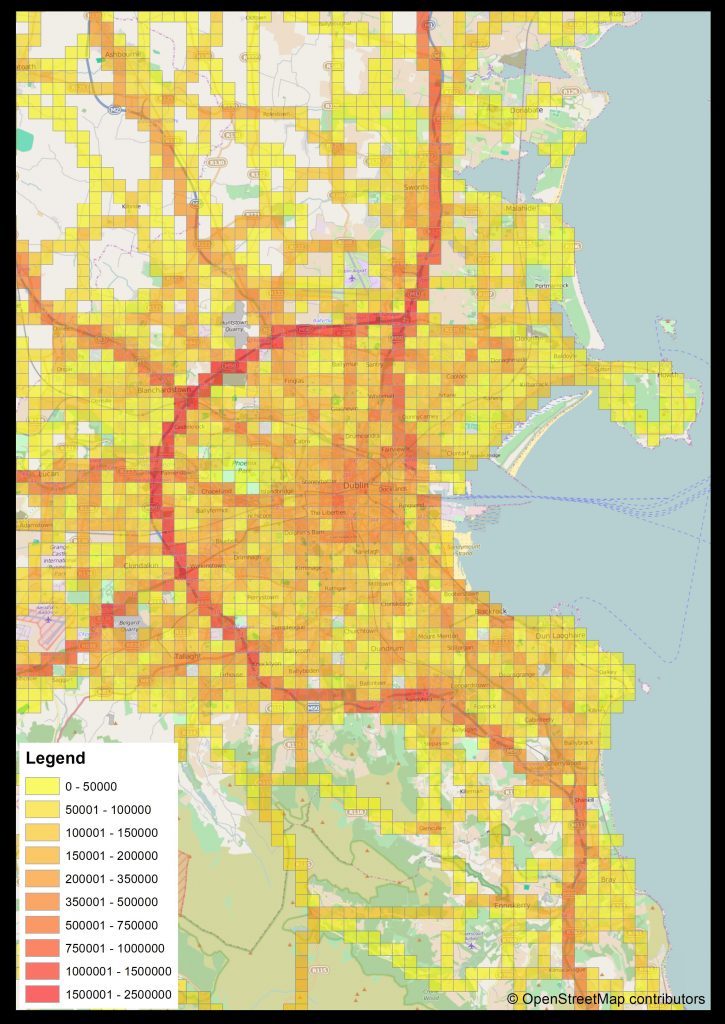 Figure: Annual CO2 Emissions (kg) in the ERM
Further detail can be found at the Development report and User guide:
---
Economic Module
The Economic module calculates the economic costs and benefits of transport interventions. In essence, it is an Irish version of the UK DfT TUBA (Transport User Benefits Appraisal) program.
Standard outputs of the Economic module:
Scheme costs
User costs
Fuel consumption
User benefits and government and operator revenues
Benefits by distance and by time saving
Transport Economics and Efficiency (TEE) Table
Analysis of Monetised Costs and Benefits
Further detail can be found at the Development report and User guide:
---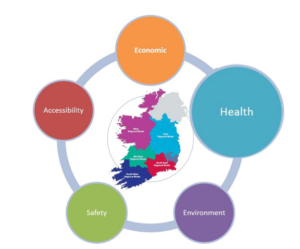 The Health module calculates benefits associated with changes in levels of physical activity and absenteeism as a result of more walking and cycling taking place. The module is based on the relevant UK DfT tool for physical activity assessment. Standard outputs of the Health module:
Total Collision Benefits Saved by Scheme
Total Collisions avoided by Scheme
Total Lives Saved with Scheme
Further detail can be found at the Development report and User guide:
---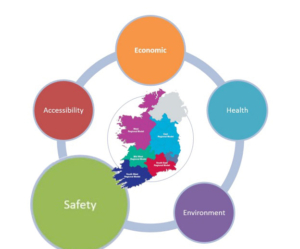 The Safety module uses a bespoke version of the UK DfT COBALT (Cost and Benefit to Accidents – Light Touch) for assessing the impact on accidents (economic appraisal) of a road scheme. Standard outputs of the Safety module:
Total Collision Benefits Saved by Scheme
Total Collisions avoided by Scheme
Total Lives Saved with Scheme
Further detail can be found at the Development report and User guide: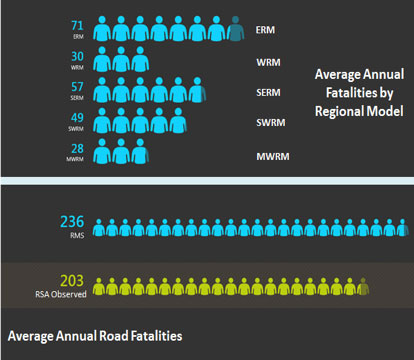 Validation Test: Annual Road Fatalities
---
Accessibility and Social Inclusion Module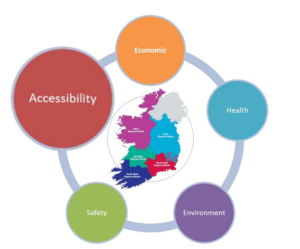 The Accessibility & Social Inclusion (ASI) module assesses the relevant impact of a transport scheme based on travel time, a simple Hansen index, and an income-based geographic indicator. Standard outputs of the ASI module:
Travel time benefits
Deprivation Index
Simple Hansen measure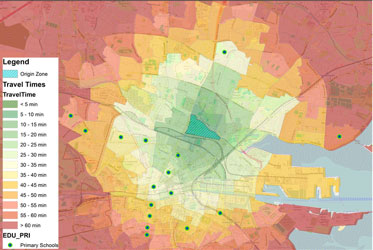 Figure: Walk times for access to Primary Schools in Dublin
Further detail can be found at the Development report and User guide: