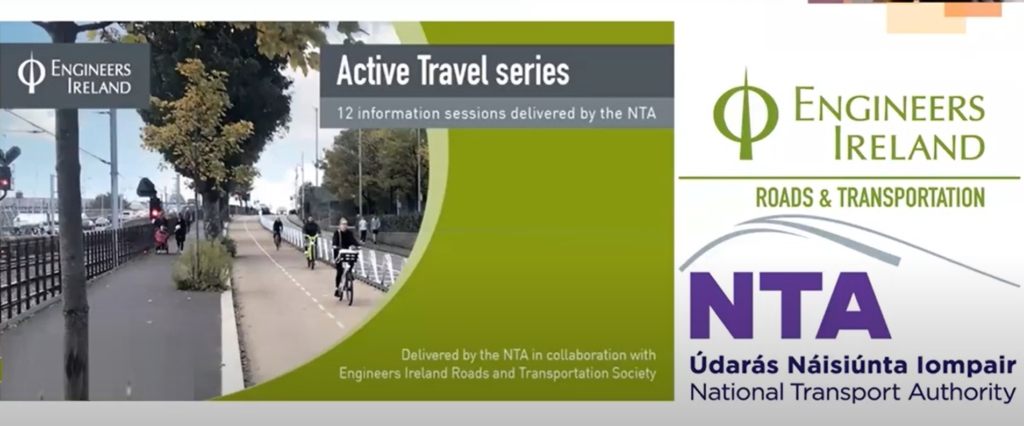 The Active Travel Series shares knowledge on the planning, design and delivery of walking and cycling schemes. The free-to-attend webinars were delivered by the National Transport Authority in collaboration with the Engineers Ireland Roads and Transportation Society in 2021. Topics included active travel project appraisal and approval, planning and statutory processes, cycle design and urban design, quick-build measures, and communications.
The Active Travel Series will be relevant to engineers, planners, local authority staff and all those with an interest in active travel. The webinar recordings are available to view below.
12 Information Sessions delivered by the National Transport Authority.
Active Travel Series – Session 1 – Basics of Cycle Design
Active Travel Series – Session 2 – Pop Up Infrastructure
Active Travel Series – Session 3 – Effective Communication Approaches for Sustainable Travel Schemes
Active Travel Series – Session 4 – Scheme Development Through Options Assessment Process
Active Travel Series – Session 5 – BusConnects Designing for Sustainable Modes
Active Travel Series – Session 6 – Statutory Processes for Active Travel Schemes
Active Travel Series – Session 7 – Safe Routes to School
Active Travel Series – Session 8 – Project Appraisal and Approval Guidelines for Active Travel Projects
Active Travel Series – Session 9 – Urban Design In Active Travel Schemes
Active Travel Series – Session 10 – Designing for Pedestrians
Active Travel Series – Session 11 – Best Practice in Cost Estimating and Risk Contingency
Active Travel Series – Session12 – Innovations in Cycle Infrastructure
Active Travel Series – Session 1 – Basics of Cycle Design
Active Travel Series – Session 2 – Pop Up Infrastructure

Active Travel Series – Session 3 – Effective Communication Approaches for Sustainable Travel Schemes
Active Travel Series – Session 4 – Scheme Development Through Options Assessment Process
Active Travel Series – Session 5 – BusConnects Designing for Sustainable Modes
Active Travel Series – Session 6 – Statutory Processes for Active Travel Schemes

Active Travel Series – Session 7 – Safe Routes to School
Active Travel Series – Session 8 – Project Appraisal and Approval Guidelines for Active Travel Projects
Active Travel Series – Session 9 – Urban Design In Active Travel Schemes
Active Travel Series – Session 10 – Designing for Pedestrians
Active Travel Series – Session 11 – Best Practice in Cost Estimating and Risk Contingency
Active Travel Series – Session12 – Innovations in Cycle Infrastructure